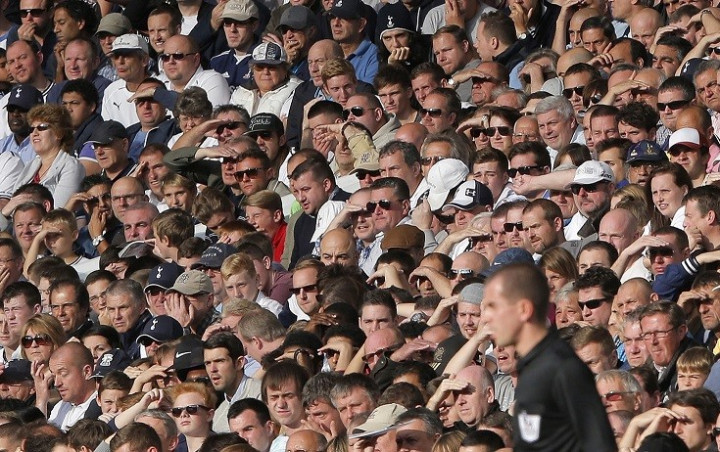 One man was arrested for chanting 'yid' at White Hart Lane after police launched a crackdown on the use of the word which has been deemed as offensive as 'n*****.'
A 51-year-old was held by police for a public order offence during a game between Tottenham Hotspur and West Ham. A second man got a verbal warning from officers inside the ground.
According to another supporter, the man was sitting in the Lower South Stand, block 35.
Scotland Yard had warned fans ahead of the Premier League fixture that chanting of the word 'yid' would not be tolerated by officers. But despite the warning, it was ignored by hundreds of supporters who chanted 'Yid army' and 'we'll sing when we want' at the match.
Afterwards, police admitted it was not possible to enforce the rule on fans because of the high number who joined in 'yid' chants.
Chief Superintendent Inspector Mick Johnson oversaw policing at the ground. He said: "Where possible arrests and warnings were made. It was not practical to arrest large parts of the crowd and appropriate measures were taken when needed.
"The feedback following engagement with fans in the east and south stands was extremely positive."
The word 'yid' is a pejorative term for a Jewish person and its usage by Spurs fans has been thrown under the spotlight by the Football Association, which has added it to a blacklist of racist and homophobic terms not permitted at games.
But Spurs fans insist their use of the word is not intended to cause offence. It is designed to foster group identity among supporters, which began as a riposte to vile anti-Semetic chants from rival fans.
Police officers outside the ground liaised with fans ahead of kick-off. It was made clear that ignoring the ban could see supporters stopped from attending matches, or face arrest.