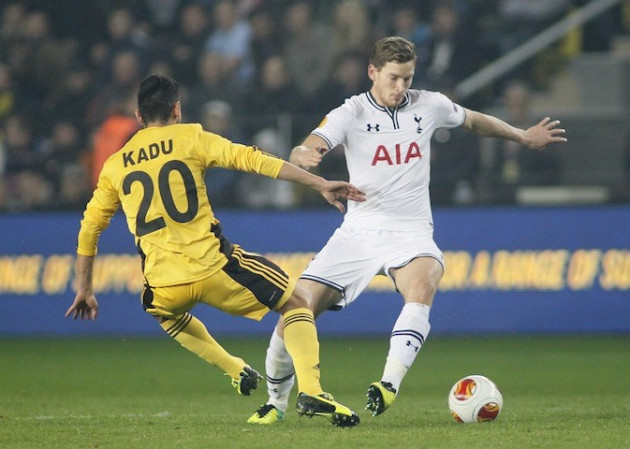 Jan Vertonghen has admitted he is frustrated with having to play in different positions for Tottenham Hotspur as Andre Villas-Boas continues to experiment with his current line-up.
Vertonghen has been employed as a centre-back for the majority of his career but had to take over at left-back to make up for injured duo Danny Rose and Kyle Naughton.
And the 26 year old, who put in a good effort against Everton at the weekend to help keep a third clean sheet in a row as Tottenham drew 0-0 with the Merseysiders, believes that if he is allowed to specialise in one position he will become a better player.
"It feels like that sometimes," he is quoted as saying on Belgian TV, via ESPN. "I can play at left-back and I can help the team at times. But everyone knows I am not a left-back.
"Once there are injuries, I'm the first to fill in the gap. Sometimes it's better if you can play in only one position.
"You see that with other players. These guys specialise in one position and they can completely concentrate."
The comments may not go down well with Villas-Boas who has been rotating the team quite often this season in order to work out which line-up is best amongst a host of new summer signings.
The club brought in seven players in the most recent transfer window as the manager continues to rebuild following his move to White Hart Lane in 2012 he currently has a far greater amount of midfielders available than positions, and the strikers have scored only nine goals between them in the first 10 games. With this in mind it would appear the Portuguese tactician has a lot of decisions to make regarding the positioning of his players.
While the squad settle in with one another they have still made a positive impact this season results-wise and currently sit at fourth in the table.
Meanwhile, bitter rivals Arsenal are currently flying in the league but Vertonghen believes that they have not yet proven that they have what it takes to challenge for Premier League honours.
"It's too early to call Arsenal the title contender," he explained.
"The only thing you can say is that they're stronger than last season. They have a stronger squad, can play different systems and have a great bunch of creativity in their midfield. Although I still expect a lot from Manchester City."