Lewis Holtby has revealed the reasons behind his decision to join Tottenham during the January transfer window instead of competing with Schalke in the Champions League knockout stages.
The German international had already agreed to make the move to White Hart Lane in the summer but, upon learning that Tottenham were interested in signing him in January, he jumped at the chance to make the move.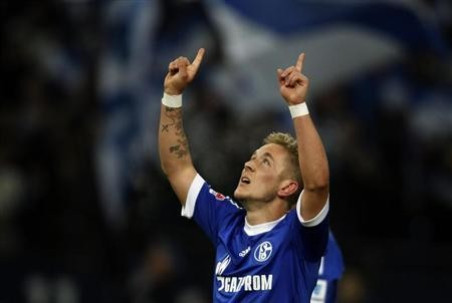 Schalke may be sixth in the league, four points behind fourth placed Eintracht, but they are considered favourites to overcome Galatasaray and advance to the quarter-finals of the Champions League.
Despite having the chance to compete in the top European competition, Holtby has admitted that as soon as he found out about Tottenham's interest, he was desperate to make the move.
"I've played in the Champions League with Schalke and they are in the last 16 against Galatasaray, but for me, since I decided to play for Spurs in the summer, I had a feeling that I wanted to come here straight away," said Holtby.
"The talks with the coach, Andre Villas-Boas, also made me feel very comfortable and I wanted to come here as soon as possible."
Holtby was pleased the deal went through a few days before the transfer window closed as he has already trained with his new teammates and is targeting a place in the Champions League with Spurs next season.
"I'm glad the deal went through before January 31 as now I can settle in and I'm really looking forward to the season and I hope we can get into the Champions League.
"I felt very comfortable [in my first day of training]. I had to go through the tunnel for the new players, and I got a bit of stick from everybody. It started with a laugh and that's good. I'm very pleased to be here, in the dressing room and on the pitch."
Having trained with the first team on Tuesday, the midfielder admits how impressed he has been with the facilities on offer at Tottenham's new training ground.
"It is massive, it's fantastic. It's the best I've seen so far to be honest. I'm proud to be here, that I can work in such a great facility. It's Champions League [standard] and now it's up to us to get there in the league," added Holtby.
"I'm very impressed. The players have so much quality, the coaching staff is fantastic, the facilities - it's the full package."
Holtby has been named in the Spurs squad for Wednesday's trip to Norwich and could well make his debut just one day after officially joining the club.