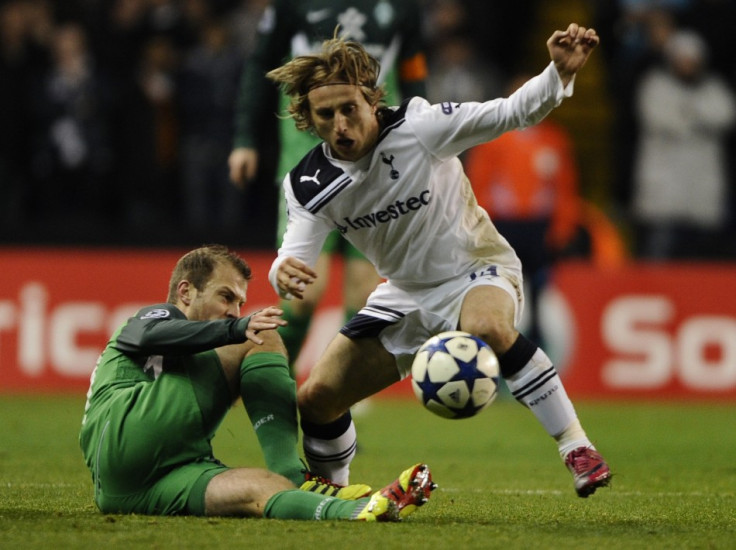 Tottenham Hotspur midfielder Luka Modric is the finest player of his type in the Premier League and Spurs are reaping the benefit of rejecting the advances of Chelsea and Manchester United in the summer, according to Sky Sports pundit Jamie Redknapp.
Modric looked on the cusp of leaving Tottenham following a spate of lucrative bids from Chelsea, and reported interest from Sir Alex Ferguson but the north London club's chairman Daniel Levy maintained an admirable defiance and Spurs have barely looked back since.
The diminutive Croatian was instrumental against Aston Villa on Monday, as he has been all season, and Jamie Redknapp, the son of Tottenham Hotspur boss Harry, believes the pint-sized playmaker is the finest creative midfielder in the entire division and patently worthy of the attentions of Andre Villas-Boas and Manchester United.
Chelsea and Manchester United have both been credited with reviving their mutual interests in Modric in January, but the aforementioned Sky Sports pundit believes the Tottenham Hotspur star is irreplaceable for Spurs, and "central to their run of form".
"Luka Modric is in a league of his own as a central midfielder of his type in the Barclays Premier League right now." Redknapp told
"Modric is central to their run of form. Yes, he has Scott Parker as his firefighter to cover and sit but Luka can play in a four because he's not afraid to put in a shift.
"His hard work and his ball retention mean he does not get exposed to opponents breaking behind him, even though he is not a modern-day powerhouse.
"I really thought he would leave in the summer when Chelsea were making their move and he was clearly distracted.
"But Spurs - and especially the chairman, Daniel Levy - held strong. The chairman said he wouldn't go and he didn't. Levy stood up to Chelsea, held his ground and now Spurs are seeing the rewards."
Tottenham are believed to be in talks with Modric in regards to a lucrative new contract which could make him the highest paid player in the club's history, as they endeavour to thwart Chelsea and Manchester United.