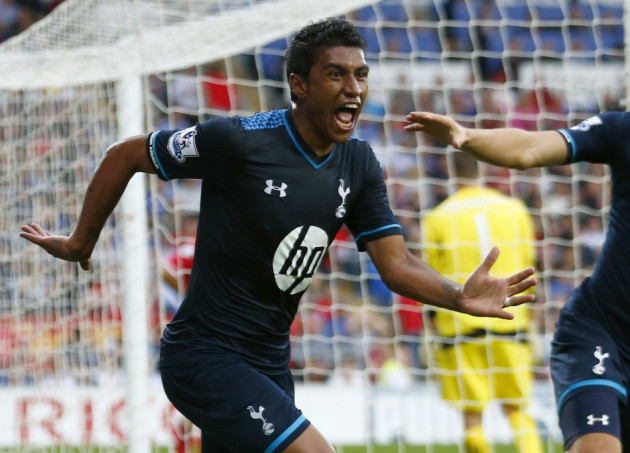 While much of the focus has been placed on managers Andre Villas-Boas and Jose Mourinho ahead of Chelsea's trip to Tottenham Hotspur, there is an interesting subplot as a host of Brazil teammates line up on opposite sides.
It is Chelsea who posses three Brazilians who epitomise the beautiful game. In Oscar, the Blues have a natural number 10 who has been blessed with wonderful control, magnificent vision and the ability to slice open even the most determined of defences.
He has been joined this season by Willian. Another creative midfielder who loves to find space between the oppositions defence and midfield, the 25 year old effortlessly glides over the turf with the ball seemingly glued to his feet.
While in defence the free spirit of David Luiz seems to play with a constant smile on his face, producing marauding runs, outrageous flicks in the most dangerous positions and free-kicks that Cristiano Ronaldo would view with envy.
Normally they are joined by their hard working comrade Ramires who provides a sense of urgency in midfield as he hustles across the pitch, providing defensive cover and support in attack. However, with the 26 year old struggling through injury it will be the flair players that take centre stage.
Mourinho has placed great faith in Oscar, often leaving out last season's top performer Juan Mata in favour of the former Sao Paulo star. He will look to create the opportunities at White Hart Lane along with Willian, while Luiz is eager for an opportunity to show why he belongs at the heart of the Chelsea defence.
In defence and attack these three players will have a huge part to play but it could well be their fellow countrymen that grab the headlines for Tottenham.
Spurs broke their transfer record to sign Paulinho from Corinthians in the summer after the 25 year old had starred for Brazil in their Confederations Cup triumph. A similarly energetic performer to Ramires, he has been crucial to the north London club's early season success.
He has formed a formidable partnership with former Internacional midfielder Sandro to give Tottenham the perfect blend of power and precision. Both men work tirelessly to win possession and provide simple passes to the more creative players to start attacks.
Sandro may only just have returned to full fitness but already it seems he has formed a potent partnership with Paulinho that could go a long way to giving Tottenham the edge in this huge London derby.
Paulinho admits that the Brazilian players in the Premier League are all good friends, but he admits that goes out the window come game time.
"There is a level of affection there, a friendship between us all," Paulinho told the Daily Telegraph. "But when we step onto the field of play we are there to defend ourselves and defend our team so I will be there fighting for Tottenham Hotspur.
"It's a big match here in London, and in Brazil, where many people will watch, and it's important for us, as a stepping stone also to win more games."
If they can neutralise the threat of Oscar and Willian then they will lay the foundations for another possible clean sheet. Spurs have conceded just one goal in the Premier League this season and the Brazilian midfield duo will be desperate to come out of the game with the bragging rights.
It may be a fierce London derby but it seems it could be decided by the boys from Brazil.