For most professional footballers a Premier League winner's medal would take pride of their place in their collection. It would signify a successful career and act as a constant reminder of what they had accomplished. That is not the case for Scott Parker; in fact he doesn't even know where to find his.
The England midfielder was a member of the Chelsea squad that won the Premier League title in 2005, yet his contribution was minimal. He made just four appearances that season and was largely on the fringes of the squad having struggled to make an impact in a side that boasted Claude Makélélé, Geremi and Frank Lampard in central midfield.
Premier League rules dictated that Parker would not even receive a winner's medal but Chelsea decided to produce replica's and provide them to every member of the squad. It was a thoughtful sentiment from the Blues hierarchy but it has stood to mean little to Parker.
Now the 32-year-old hopes he will finally secure an honour which he can look back on with distinct pride. As a regular member of the Tottenham side, especially since the season-ending injury to Sandro, he will play a pivotal role in helping the club win their first European trophy since the UEFA Cup in 1984.
"It's fair to say I didn't really feel part of Chelsea's success; the Carling Cup was a bit different as I played in a few games so I thought I contributed, but I still didn't feel it at the bottom of my heart and it was the same with the league title. I didn't feel I had any sort of contribution towards it," explains Parker.
"I got a league medal as there were four of us that didn't play enough game but I think the club got a replica medal. I seriously wouldn't have a clue where it is; it says a lot about it really."
Parker is open and frank about his time at Chelsea but is now solely concerned with helping Tottenham achieve their goals. He jokes that a Europa League medal would "go up above the fire place" or somewhere a "bit more special" and it is clear that this would provide a more cherished memory.
As a professional at a top club he is fully aware of the importance of achieving Champions League football but there is no award for this achievement. The memory of playing and winning a final is something that would always remain with Parker and, while he knows the importance of playing in Europe's elite competition, he would cherish the memory of winning the Europa League.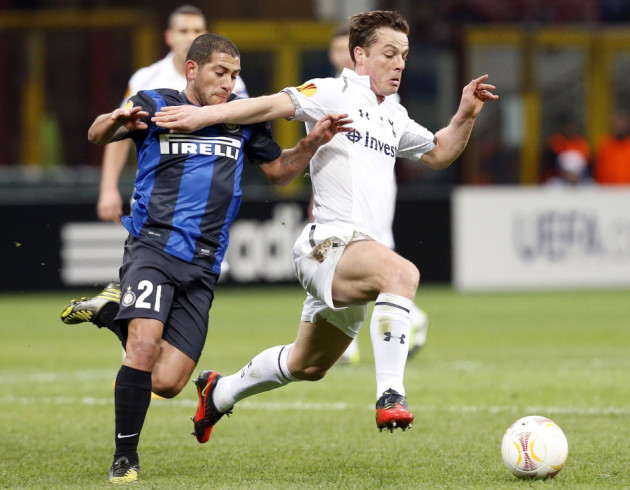 "On the grand scheme we know what we want to achieve and finishing in the top four is vital, but as a player I can see the argument that there is nothing more rewarding than going to a final and lifting a trophy," added Parker.
So would it mean more to win with Spurs than it did with Chelsea? "Yeah it probably does. When I do finish I would like to look back and be able to say, 'look what I did', so yeah it is something that would mean more."
Having been part of such a successful Chelsea squad Parker has an acute understanding of the sense of achievement that comes with being a winner. It is not just the players and management that celebrate, but it is a time for the player's families to get together and he is desperate for this to be replicated at Tottenham.
"For me personally, I've been around it and I've seen what success is like for the fans and even for family. I have an understanding of how good those days are so I would love to be part of it with Tottenham," said the former West Ham captain.
Under the guidance of Andre Villas-Boas, Tottenham have a genuine chance of winning their first piece of silverware since the League Cup triumph of 2008. The Portuguese boss knows what it takes to succeed in Europe, having led Porto to the Europa League crown two seasons ago, and right from the start has taken the competition seriously.
"He told us from the outset that he wanted to win the competition and that it was a part of our season plan," continues Parker. "In previous years we have sometimes taken a lesser squad for cup games but that has never been the case and every player has been aware of how much this competition means."
With confidence boosting victories over Lyon and Inter Milan, Spurs have been installed as second favourites to win the competition; behind only Chelsea. With FC Basel in the quarter-finals there is a genuine belief amongst the squad that they can make the final in Amsterdam. Should Tottenham go on to lift the trophy then Parker can rest assured that he has played a vital role in the club's success. He may even need to find a suitable place to display his medal, I'm not sure above the fire place would suffice.