Tottenham's hopes of signing Barcelona striker Bojan Krkic have taken a hit, following comments by his agent, Alexander Bursac. The 22-year-old Spanish international was once very highly rated by the Spanish champions but has slipped out of contention for a first team place at the Nou Camp over the past couple of years.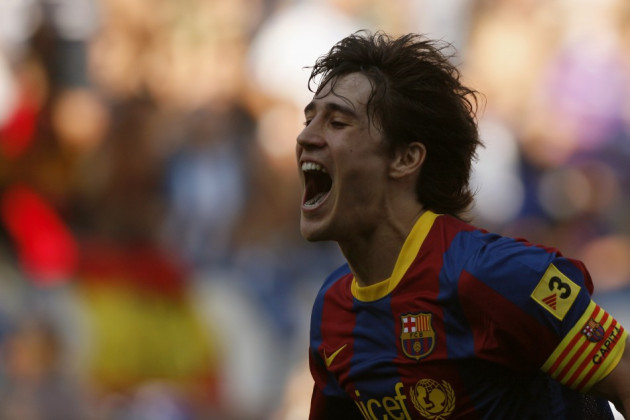 He spent the last two seasons on loan to Serie A clubs Roma and AC Milan, for whom he scored a combined 10 goals in 18 league starts. However, with the arrival of Brazil star Neymar at the club, the chances of first team football for Bojan are non-existent.
The Catalans have placed a £6m price tag on their young striker's head and Spurs are believed to be keen on signing the player, particularly since both first choice attackers - Jermain Defoe and Emmanuel Adebayor - are expected to leave White Hart Lane.
Unfortunately for Andre Villas-Boas, Bursac has now confirmed his client's preference for Dutch football, while also ruling out a transfer to any other club in Spain.
"Bojan only wants to go to the Netherlands. A club like Real Betis doesn't have a chance. There are many reasons [why he wants to go to Netherlands]. All three clubs [PSV, Feyenoord and Ajax] have positive and negative points. He's got a good impression of the coaches of the clubs," Bursac explained, according to Goal.com.
If AVB is unable to persuade Bojan to change his mind, the north London side may have to be content with his team-mate, Spain international striker David Villa. The 31-year-old is La Roja's all-time leading goal scorer and Goal.com believes he has a broad agreement on personal terms with the club.
Meanwhile, Ajax manager Frank de Boer has revealed an interest in Bojan. The former Barcelona defender also said he has spoken to the young Spaniard about playing for the Dutch champions.
"He is a quality player. Bojan is a roving attacker - like a Viktor Fischer-type. He's not a real right winger like Isaac Cuenca but I would like to have him," de Boer told Voetbal International, according to Goal.com.
"I myself have talked to him. He has long been in the picture for us. We have had years of contact with his father. It would surprise me if he chooses another Dutch club to Ajax," the 43-year-old added.