Barcelona president Sandro Rosell insists Tottenham and Arsenal target David Villa will remain at Camp Nou "until someone says the opposite".
The 31-year-old struggled for first-team opportunities with the Catalans last season and managed just 17 La Liga starts. The forward could fall further down the pecking order next season, after the Spanish champions secured the services of Brazilian wonderkid and long-time target Neymar earlier this month.
Spurs are reportedly keen to land Villa as Andre Villas-Boas attempts to pull off a top four finish next season, while Arsenal remain linked to the Spain international from the January transfer window. However, Rosell has now moved to cool the speculation surrounding the striker's future.
"Until somebody says the opposite, David Villa will remain a Barcelona player," the Blaugrana chief stressed.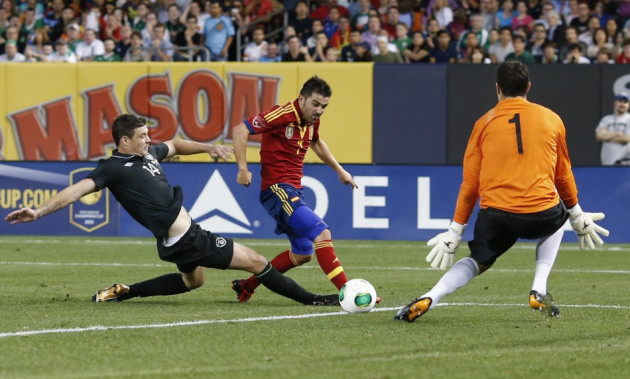 Villa, who is presently with the La Roja squad in Brazil for the FIFA Confederations Cup, said he would make a decision regarding his future only after the end of the tournament.
"I have a contract and I have always said that I'm very happy in Barcelona. Throughout my career I have always been respectful of my current club. Right now I'm just thinking about doing a good job in Brazil and then we will see," the player pointed out.
"We will have to analyse many things during the summer, but as of right now I'm not thinking of anything else other than playing football for Spain," Villa added.
Meanwhile, Rosell also claimed Lionel Messi is innocent of any tax fraud charges.
The four-time Ballon d'Or winner and his father are being investigated for allegedly failing to pay €4m (£3.4m) in taxes. The Argentine's camp has denied the allegations and the Barcelona president is confident the Messi family is not guilty of any wrongdoing.
"I've spoken to Messi's family. They are very calm and we are too. We give them all our support and we have no doubt that they are completely innocent," Rosell said.
If found guilty, the Barcelona talisman could face up to six years in jail.