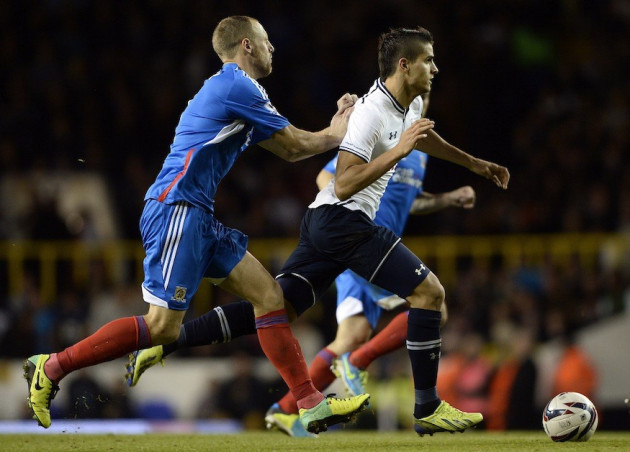 Jamie Redknapp has argued that Tottenham are playing Erik Lamela out of position and questioned why they aren't accommodating him better after the side lost to Manchester City 6-0 at the weekend.
Andre Villas-Boas said his side were 'embarrassed' by the loss and so far this season they have scored just nine goals in 12 Premier League games, despite spending big on attcking players in the summer.
Lamela set a new club record with his £30m move from Roma and has admitted he is still trying to learn English and adjust to life at White Hart Lane.
And Redknapp believes it's not the language that's the problem but rather that Lamela is being played out of position, having been deployed on the right at his former club.
"On Sunday, he played on the left, but he was a success for Roma on the right," he said in the Mail. "He was playing like he had a handbrake on and is well off the pace. For that money, I want a player who doesn't just make a difference, he IS the difference."
Lamela has scored just once this season, in the Europa League, and Roberto Soldado has equally been struggling in front of the net since his summer move from Valencia.
And Redknapp has questioned who exactly was calling the shots in the transfer window with Spurs looking to be struggling without Gareth Bale.
"Roberto Soldado is another Jermain Defoe, Etienne Capoue is another Sandro, and do you need Lamela when you have Andros Townsend?" he said. "Was it Andre Villas-Boas or was it director of football Franco Baldini (calling the shots)?"
The former Spurs midfielder also claimed that Tottenham are no longer the entertaining side they once were, saying: "This season they have enjoyed clean sheets but haven't been scoring. How long will the supporters tolerate that?
"Spurs fans like a 'you score two and we'll score three' approach. This team have only scored nine, the same as Luis Suarez has scored for Liverpool. Manchester City have scored 33 goals. Give Spurs fans more entertainment!"