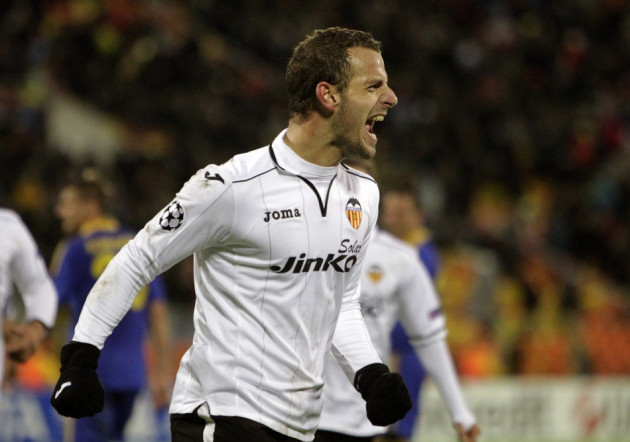 Tottenham Hotspur are preparing a club-record bid for Valencia striker Roberto Soldado in order to convinced Gareth Bale to remain at Whie Hart Lane beyond the summer, according to reports.
Andre Villas-Boas has made clear that Spurs want to keep hold of Bale this summer, and after they missed out on Champions League qualification in agonizing circumstances the final game of the season, the north Londoners are keen to show the Welshman their ambition for the next campaign.
A striker is clearly a priority for Villas-Boas in the summer window. With both Jermain Defoe and Emmanuel Adebayor struggling with a loss of form, it was left to Bale to spearhead Tottenham's assault on the top four, with his sporadic absence through growing increasinly noticable as the season wore on.
And now the Daily Mail claims that Soldado is the top target for the club, with Daniel Levy willing to sanction a £20m record-bid for the Spain international, who scored 28 times for Valencia this season.
Should Tottenham put in a bid for Soldado, the £20m would amount to over £3m more than their previous record, when they paid £16.75m for Luka Modric in 2008.
Tottenham have relincquished 10 and seven point leads over Arsenak in the past two season before finishing behind their local rivals and subsequently missing out on Champions League qualification.
This summer, Arsene Wenger is believed to be considering spending big, while Liverpool are also hoping to be challenging for a top four spot. Tottenham's challenge to return to the Champions League, after a successful campaign saw them reach the quarter finals in 2011, will no doubt be all the more difficult, and will require some big spending to become a reality.
Tottenham came close to tying up a deal for Saldado last season, and the club are believed to also be considering strikers Leandro Damiao and David Villa as alternative options.