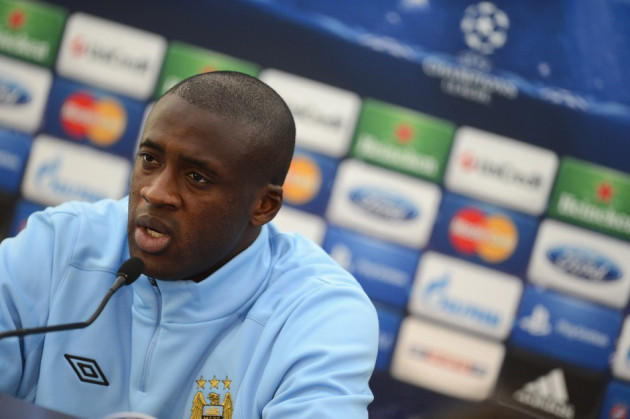 Manchester City midfielder Yaya Toure has suggested that black players may boycott the 2018 World Cup in Russia unless the country tackles the issue of racism in football.
The Ivory Coast international was believed to be the subject of racist abuse from CSKA Moscow fans during City's Champions League game on Wednesday in Russia and his subsequent complaint is being investigated by Uefa.
CSKA have denied that any racist chanting took place by saying they were "surprised and disappointed" by Toure's allegation, but they will face a disciplinary hearing on 30 October.
Toure is far from the first professional footballer to complain of such abuse while playing in Russia and he has warned that black players may decide against playing in the country when the World Cup is held there in five years' time.
"If we aren't confident at the World Cup, coming to Russia, we don't come," Toure was quoted as saying by the RIA Novosti news agency.
The Russian side could be forced to close part of their stadium for a future game if found guilty by Uefa, but their own Ivory Coast international Seydou Doumbia claimed he didn't hear any offensive chanting.
"I didn't hear anything like that from the CSKA fans," said the CSKA striker. "Yes, they're always noisy in supporting the team and try to put as much pressure as possible on our opponents, but they wouldn't ever allow themselves to come out with racist chants.
"So my Ivory Coast colleague is clearly exaggerating."
However, Toure's stance has received support from Piara Power, the executive director of European anti-discrimination body Football Against Racism in Europe (Fare) and a member of Fifa's anti-discrimination taskforce.
"Yaya Toure is absolutely right in raising the spectre of African players or players of African heritage not going to the 2018 World Cup - and without them there will not be a World Cup in Russia," said Power.
"I wouldn't blame them - in this era players are the most powerful force and if all the players said they are not going there wouldn't be a World Cup, or if there was it would be meaningless."