Chinese security forces backed by helicopters and speedboats have raided a seaside village in Guangdong infamous for producing crystal meth and arrested more than 180 people.
More than 3,000 policemen and paramilitary forces surrounded the southern village of Boshe, in a massive anti-drug operation.
Three tonnes of crystal methamphetamine, 23 tonnes of drug-making ingredients as well a number of weapons, ammunition and a homemade bomb were seized. No one was killed or wounded.
"The village has made a criminal drug production a 'clan-based, industrialized operation with local protection'," Guangdong province's police force said on its website.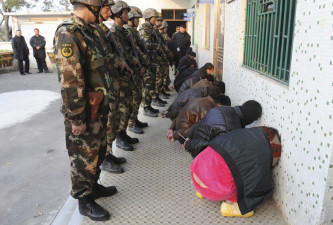 "The offenders have for a long time been brazenly committing crimes, avoiding investigations and even ganging up to violently oppose law enforcement," the statement said.
Police arrested 182 people– all accused of working for some 18 drug-making rings – including 14 local Communist Party officials who colluded with and provided protection to the gangs, the Nanfang Daily reported.
Among them were, Boshe's party secretary Cai Dongjia, the local police chief and other police officers.
Some 350kg of meth were found at the home of another local party cadre, Cai Hanwu, police said.
Boshe had been under police watch for some time, as authorities said one third of crystal meth made in China over the last few years was produced there.
However earlier attempts to penetrate the village had been resisted. Police raids were fended off by villagers brandishing replica AK-47s who blocked the town's entrance with motorcycles. Boards full of nails were laid out on the road, while rocks and homemade grenades were thrown at officers.
Authorities said that about 20% of the town's 1,700 households engaged in drug related criminal activities.