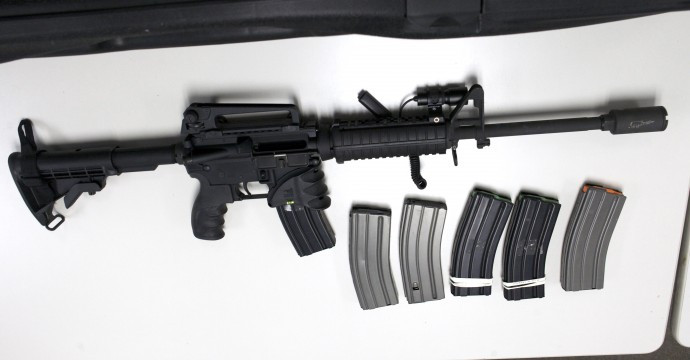 Long Island police said they prevented a disaster when they arrested a local man and his brother with bomb-making instructions, assault rifles, Hitler propaganda and Nazi memorabilia.
Investigators said they had "neutralised a clear public threat" — but did not provided any details about what they believe may have been planned. Investigators indicated it could have been deadly a plot "like the one we recently saw in Orlando".
"Ten assault rifles, a handgun, high-capacity magazines, a shotgun, a stun gun [were found]," said Suffolk County police Commissioner Timothy Sini.
"This is the manual. We're not going to reveal the details at this moment. We are working with our law enforcement partners."
These "individuals pose a clear and present danger, or at least they did," Sini said, reported the local ABC-TV station. "They have clearly subscribed to a hateful ideology, they had an illegal arsenal at their fingertips."
The "gravity of this situation cannot be overstated," Sini added. "We hit a big score."
The bomb-making instructions were handwritten notes and printouts held in a black binder.
Edward Perkowski, 29, faces weapons charges for the arsenal, as well as drug charges for marijuana and hallucinogenic mushrooms found at their home, police said. His younger brother, Sean, was also arrested on a separate warrant unrelated to the guns and drugs.
"The house has been a known house," said a neighbour. "There's been trouble of there for years. The police are there every couple of months."
Perkowski's attorney insisted his client ran a "legitimate military surplus business".