The troubled life of a young woman who died of a suspected fentanyl overdose has been revealed by her mother. Elaina Towery died aged 22 with mum Cheryl by her side in a Detroit Hospital on Monday 14 August.
Cheryl Towery believes Elaina's life was cut short when she injected herself with fentanyl-laced heroin in the toilets of a Burger King on Thursday 10 August. "She's my only daughter, my best friend. She was supposed to start her new job today, now she's on life support," Cheryl told WJBK-TV. Hours later, the life support machine was turned off.
Elaina is survived by a five-year-old son who she had to give away as a result of her addiction. "She wanted him to be in a better place," Towery said.
She added that she thought the separation had only added to Elaine's woes and worsened her seven year opiate addiction, during which she has overdosed at least five times.
She said she often found her daughter "beat up, being pimped out, being kept in a hotel room on heroin".
Towery said when she saw her on the hospital bed at Sinai-Grace Hospital it caused her more pain than ever: "I wasn't prepared for what I saw in the emergency room, because that's the worst I've ever seen her."
Although toxicology results have yet to be obtained, Towery is sure that fentanyl, the synthetic opioid ravaging North America, played a role in her death.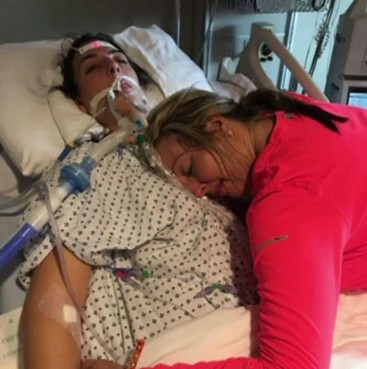 In part, this is due to the speed with which Elaina went into overdose. She went into the toilets at the Burger King on McNichols and Schaefer to take a hit of heroin while a male companion waited in the car.
"She pulled in here [Burger King] to use the restroom and after 20-25 minutes, he thought it was odd she didn't come back out," Towery said.
Employees soon discovered Elaina unconscious in the toilet and going into cardiac arrest. "By 6 p.m., 6:30, 7 I finally got a message on Facebook," Towery said of the moment she learned her child's life was hanging by a thread.
Fentanyl and its cousins, including the elephant tranquilliser carfentanyl, are 100 to 10,000 times stronger than heroin. They are increasingly being used to cut the street product leading to unprecedented levels of drug deaths in the US.
The mixing process is often performed amateurishly by dealers, which results in "hotspots" of the super strong opiates being consumed in a single hit by unsuspecting users.
Towery vowed to pay tribute to her daughter by campaigning against the drug dealers playing Russian Roulette with people's lives. "I'm going to fight for the rest of my life to make sure the people down here on the street selling this to people, need to be locked up," she said.