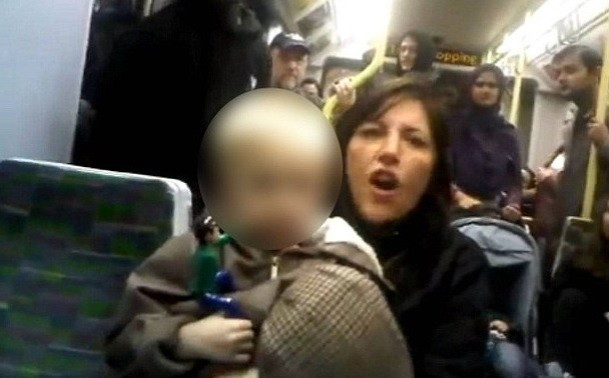 A mother whose racist rant on a south London tram was caught on video has finally admitted her guilt - 18 months after the footage went viral on YouTube.
Emma West, 34, was secretly filmed by a fellow traveller hurling abuse at passengers aboard a tram in Croydon in November 2011.
In a tirade, which has been watched by more than two million people, West targets black and eastern European people.
She can be heard screaming: "None of you are f***ing English. Get back to your own f***ing countries," while her young child sits on her knee.
The former dental nurse of New Addington, south London, had appeared in Croydon magistrates court several times to deny any offence.
After a string of adjournments in which her lawyers claimed mental health problems meant she was not fit to stand trial West finally accepted responsibility and admitted a racially aggravated public order offence of using threatening, abusive or insulting words or behaviour.
Her guilty plea came as it emerged that she had stabbed her partner Ricky Metson with a 7in ornamental knife and assaulted a police officer.
Prosecutor Remi Ogunfowora said West started hitting her partner of 12 years during a heated conversation about her brother.

"Mr Metson put his hands up in front of him to protect himself and told her to calm down," he told the court.
"She said she was going to call her mum and ran upstairs and Mr Metson followed.
"As he entered the room she picked up an ornamental knife from its sheath, struck him in the head and started slashing at his body.
"He slapped her around the face in self-defence to try to calm her down and went downstairs. She followed him down the stairs and stabbed him in the back at least twice. She tried to run out of the house and he stopped her leaving and called the police."
When police arrived they found Metson was covered in blood. West started to kicked the officers.
She is due to be sentenced for all offences on 24 June.
Recorder of Croydon Judge Warwick Mckinnon indicated he would pass a community sentence for the three offences and she would not face jail.