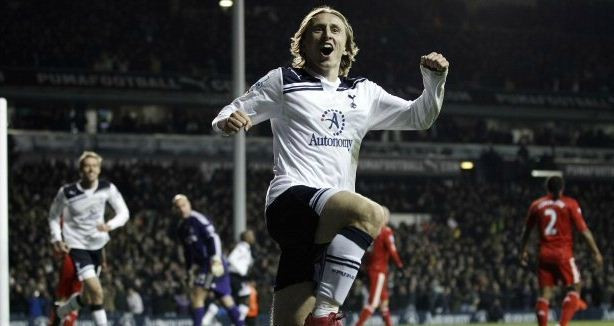 All the latest transfer news surrounding Tottenham Hotspur. In a busy day of transfer rumour's involving Tottenham, Harry Redknapp is linked with a move for Joey Barton and Fernando Llorente. Tottenham could be resigned to loosing Luka Modric if Chelsea put in a bid the north London side can't afford to turn down. There is also news of Spurs' pursuit of Lyon midfielder Miralem Pjanic.
The Daily Mail claims that Tottenham are leading the race to sign controversial Newcastle United midfielder Joey Barton. The Newcastle man has been told that he can leave the club for free after he criticised the clubs transfer policy on Twitter yesterday.
Harry Redknapp has turned his attention to Barton after failing in his attempt to sign West Ham's Scott Parker. Redknapp is said to be very keen for Barton to join up with the Tottenham squad and the English manager has been a fan of the midfielder for some time. Newcastle chairman Mike Ashley is said to have lost patience with the midfielder and Barton was made to train alone this morning.
The Daily Express has said that Luka Modric could leave Tottenham if Chelsea pays a 'head turning amount of money.' Chelsea believes that they can offer Tottenham a price they can't afford. Kevin Bond, Tottenham assistant manager has said that he expects Modric to leave the club if Chelsea increases their offer.
"Transfers are part and parcel of the game, but you don't want to lose your best players, and he certainly is one of our best players. We desperately don't want to lose him but everybody has got a price. The chairman is adamant he doesn't want to sell him and that's great for us but, if at the end money turns your head and he did go, then obviously we'd have to get on with it," Bond, Harry Redknapp's No2, said of the Luka Modric situation.
Harry Redknapp is said to have put Athletic Bilbao's striker Fernando Llorente at the top of his transfer wish list. It comes just a day after Spurs missed out on Montenegrin striker Mirko Vucinic. The Spanish international is said to want to leave Spain this summer and Redknapp believes that Llorente has the physical attributes to cut it in the Premier League. Redknapp has been trailing Llorente for a number of seasons but was originally put off by the staggering £34m transfer release clause.
The Tottenham boss is now ready to offer the buyout clause with the newspaper claiming that Redknapp is resigned to the fact that he will have to spend a vast sum of money of he is to get the quality of striker that he craves.
Finally, the Daily Mirror claims that Tottenham will make a summer move for Lyon midfielder Miralem Pjanic. The Bosnian international has been on Tottenham's radar for many years and now it seems they are ready to make their move. The newspaper claims that Tottenham could land the player for £10m and Pjanic is seen as a long term replacement for Luka Modric. However, Redknapp has said that he wants to improve the squad, not deplete it, and could make a move for Pjanic to convince Modric to stay.