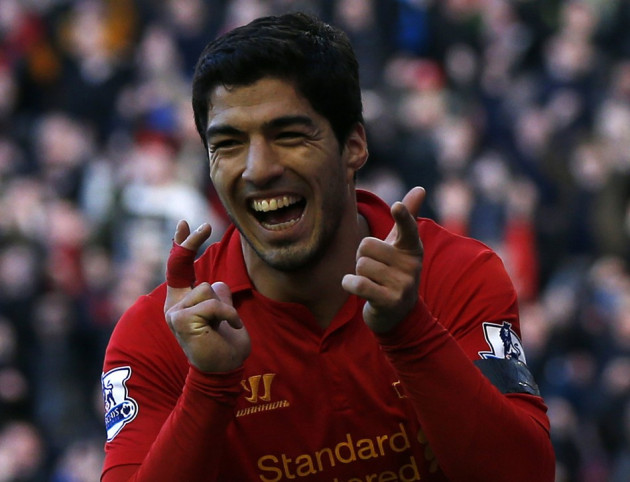 Liverpool's significant gnashing of teeth after learning of Luis Suarez's racist, inconsistent, unfair, contradictory, and surprising 10-match ban for biting [another] human being in Branislav Ivanovic will have been swelled by the news the Uruguayan will seek an exit route out of Anfield.
Bayern Munich, Juventus and Paris Saint Germain, despite all requiring a new striker like one needs a seat on the tube - nice but not essentially necessary - are naturally the trio being mentioned as the front-runners to sign Suarez.
Given how the 26 year old's previous misdemeanours have been overlooked by the British press in such eloquent and tasteful fashion, a move across the continent will be an emphatic departure from his problems amid the accommodating European written media. Makes perfect sense.
Reports of potential replacements for Suarez have surprisingly been few and far between but of greater concern for Liverpool is the imminent return from injury of Fabio Borini who is likely to defile the first-team for the first time since February during the trip to Newcastle United. Never has Suarez's possible departure looked grimmer.
But the transfer wagon is being pulled by far more than just the Suarez horse; let us not forget east-London's ultimate cart-horse; Carlton Cole. Impressively, Cole is the second highest scoring forward at Upton Park this season. Unimpressively, he's score just two and the Hammers are (shock) yet to firm up the offer of a new contract. An 'off-the-record' offer has been made, a decision over which the 29 year old has until the final day of the season to make.
Irony will undoubtedly ensue should West Ham still be fighting for their lives on the final day of the season as they look to avoid the trap door, while hoping that Cole falls through. Expect Andy Carroll to be doing the majority of the pushing.
Finally, the milk-carton baring Scott Sinclair could finally be plucked from football's dark abyss and sent on loan to either Aston Villa, Everton or West Bromwich Albion. Sinclair has made as many starts for City in the Premier League this season as he did in the Olympic Games and faces a major hurdle (metaphorical) to escape people forgetting his name (literal).
Fresh from his manager Roberto Mancini apologising for not playing him (no subsequent apology has been given to Richard Wright) Sinclair's future elsewhere relies on Mancini remaining as manager at the Etihad Stadium beyond this summer.