Transparent director compares Donald Trump to Hitler: 'He is a dangerous monster'
Film-maker made comments backstage at the annual awards show after winning the best director prize.
Transparent creator Jill Soloway equated Donald Trump to Nazi dictator Adolf Hitler, calling him a "dangerous monster". The film-maker, who took home the Best Director, lambasted the Republican presidential nominee while addressing reporters backstage at Sunday nights' Emmys.
Highlighting the suffering Jews suffered at the hands of the Nazis, Soloway accused Trump of continuing to spew the same hate and backward rhetoric. "Jews were otherized in Nazi Germany to gain political power for Hitler, and right now Donald Trump is doing the same thing," she explained.
"He's otherizing people," she continued. "He's calling women pigs if they don't look like beauty pageant contestants. He blames Muslims and Mexicans for our problems. He makes fun of disabled people. This is otherising with a capital O. It has been used in our history before to start and win wars, and he needs to be called out at every chance he gets for being one of the most dangerous monsters to ever approach our lifetimes. He's a complete dangerous monster and any moment that I have to call Trump out for being an inheritor to Hitler, I will."
According to Entertainment Weekly her comments were co-signed by Transparent actor Jeffrey Tambor, who simply added, "Ditto, ditto, ditto."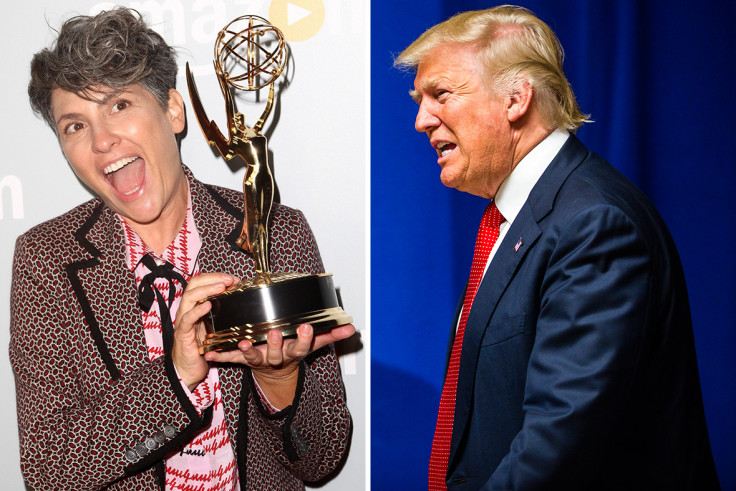 Her less than flattering comparison capped off an awards night dominated by references to the forthcoming US election. Kate McKinnon thanked Hillary Clinton during her acceptance speech for best supporting actress in a comedy series award for her work on Saturday Night Live, and host Jimmy Kimmel referenced Trump in his opening monologue.
Soloway has succeeded in dividing fans with some accusing her of promoting her own agenda. One critic said: "Comparing Trump to Hitler is not going to work. People are not stupid as you liberals think."
This is not the first time that Trump has been compared to the dictator. Back in August legendary pop star Cher likened Trump to "despots" Hitler and Soviet Union leader Joseph Stalin as she voiced her support of Democratic candidate Hilary Clinton at campaign event in Provincetown, Massachusetts.
She said of Trump: "He wants the adulation, he doesn't give a s**t about the work. Do you remember Fun With Dick And Jane? It's like racist fun with Dick and Jane. He doesn't mean we want to make America great again. He means we want to make America straight and white."
© Copyright IBTimes 2023. All rights reserved.