Trevi Fountain: Rome's iconic landmark unveils new £1.6m renovation
After 17 months hidden from the public, Rome's newly restored Trevi Fountain has been unveiled to the public for the first time. The Oceanus and Tritons marble statues underwent the most drastic renovation in 252 years thanks to the Italian fashion house Fendi.
A major whitening of the stone and 100 LED lights on the bottom of the fountain have been installed to illuminate the mythological scenery of one of Rome's most iconic landmarks. Marking the end of an aqueduct said to have carried "Virgin Water" to ancient Rome, the fountain now boasts fresh pumps, reinforced stucco ornaments and a pigeon deterrent system, which cost a total €2.2 million (£1.62 million,$2.4 million), sponsored by Fendi
"It's called Trevi as it was the meeting point of three streets. This is the first big restoration project for which the public administration and the private side, Maison Fendi, have joined forces in order to give back value and to conserve an immense patrimony as that of Rome," superintendent of cultural heritage for Rome, Claudio Parisi Presicce, explained at the unveiling ceremony.
The fountain's last restoration happened 25 years ago albeit their had have been many calls for intervention as stone laurel leaves had started to fall from the facade.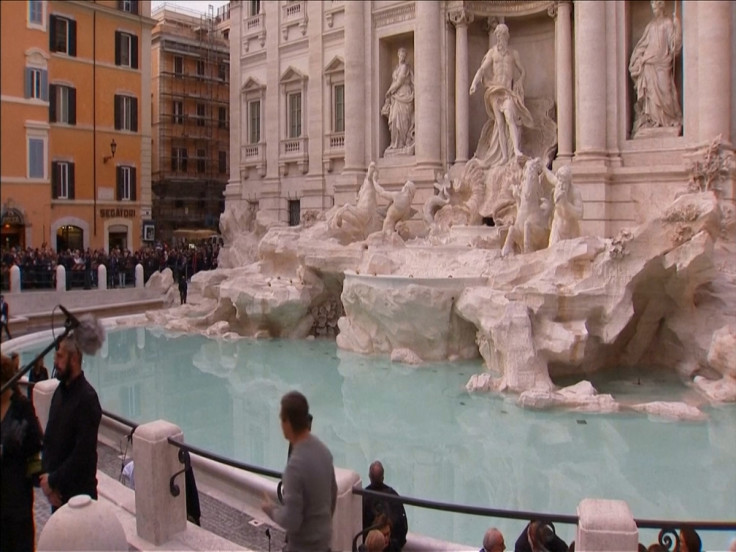 Fendi chief executive Pietro Beccari explained why the company became involved. "Trevi because Trevi is one of the monuments that is most visited in the world, one of the most beautiful and Trevi because we heard two years ago just by chance that the fountain was losing pieces and we immediately called the Comune di Roma and the mayor gave us a chance to be the sole sponsor which we did with enthusiasm," he said.
"So, we are here today to celebrate the ending of the work which for once in Italy is sooner than foreseen, it's three months sooner than foreseen."
Fendi, known for its luxurious furs and "Baguette" handbags, is one of an august list of Italian entrepreneurs that have poured money into monuments across the country as a three-year recession further strained public funding.
Culture Minister Dario Franceschini has called for more public and private investment in Italy's cultural heritage, and introduced tax cuts of up to 65% for these donations.
Just across town, luxury shoemaker Tod's is completing a restoration of the Colosseum amphitheatre, and jeweler Bulgari is giving a sorely-needed face-lift to the Spanish Steps.
© Copyright IBTimes 2023. All rights reserved.