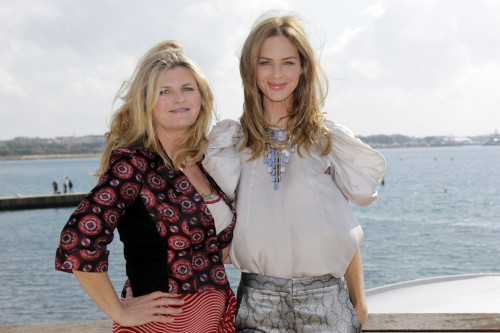 Not content with being Charles Saatchi's new squeeze, Trinny Woodall - half of TV fashion guru team Trinny and Susannah - appears to have taken a swipe at Nigella Lawson in a blog post celebrating turning 50.
Reflecting on her birthday milestone, Woodall blogged on High 50, a UK magazine about celebrating your 50s: "It's great that, at 50, life can still grab you by the throat and shake you up. And it's even better when you've learned to cope with whatever's thrown at you."
Lawson, Saatchi's ex-wife, was photographed last year being throttled by Saatchi at Scott's restaurant in Mayfair. The resulting media furore led to Saatchi divorcing Lawson after 10 years of marriage for failing to defend him in public over the incident.
"I was not gripping, strangling or throttling her. I was holding her head by the neck to make her focus," he told Isleworth Crown Court in November 2013 during a trial of Lawson's two former assistants.
In her blog, Woodall states that she is in no hurry to get back on screen in the UK and doesn't want to have to "re-cast" herself.
"Perhaps British TV companies don't want women my age on screen. I don't know. But I'm not going to compromise myself to get back on the box in Britain," she said.
"If I come up with something the executives like, then fine. If not, I can make other choices. I have to play to my strengths."
She mentions that her knees are wrinkled and saggy, but makes a strong point that women in their fifties need to look for their weak points and "hide them", in particular referring to cleavage, which could be construed as another jibe at Lawson's iconic plunging necklines.
"Thus, if you used to like showing your cleavage in something slashed to the waist, just be aware your skin probably looks like an old chammy-leather now. So wear something round-necked. You can still show off your shape," she stressed.
Woodall was spotted out and about with Saatchi from September 2013, just six weeks after his divorce from Lawson was finalised, and only three months after the incident at Scott's restaurant. To make things worse, Woodall and Saatchi have continued to dine regularly at the same restaurant.