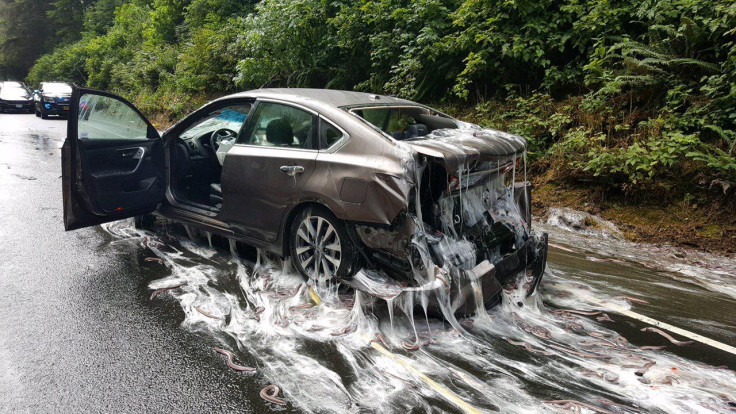 A truck carrying eels overturned on a state highway in Oregon covering the road and a nearby car in eels and slime.
Oregon State Police shared pictures of the stomach-churning incident, showing slime and eel carcasses littering the road, with many of the creatures having fallen into a ditch running alongside.
One picture showed an officer standing amongst the slime and eels with the caption: 'What to tell the #drycleaner?'
On Twitter, authorities said that the eels were destined to be "shipped to Korea for consumption".
"Can you image the smell?" one user commented. Another asked: "Didn't I see this in an episode of X-Files once?"
Police said that the highway was expected to be closed into the afternoon and that there were minor injuries reported in the accident. "#Cleanup on Aisle 101! We've been #Slimed!" Police wrote on Facebook.
Depoe Bay Fire District tweeted a video from the scene showing a bulldozer scooping us the eels, some of which were still wriggling on the ground. The Fire District said that there were no injuries.
One commenter on Facebook summed up what many of us were thinking: "So gross!!" wrote Susan Hudson.