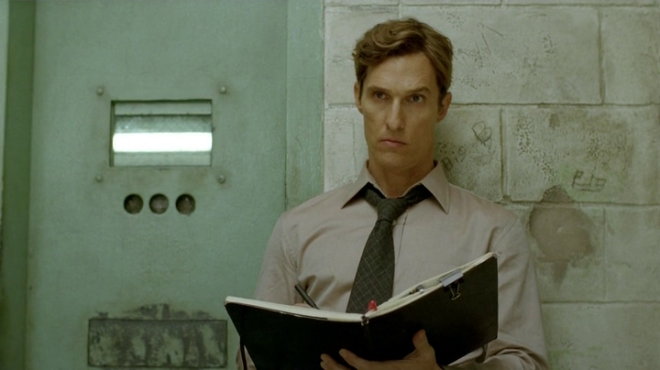 Brad Pitt is rumoured to be taking over as the lead in season two of hit HBO drama True Detective.
The show's first season, which finished last week in the US and continues on Sky Atlantic, was a resounding success, with Oscar-winner Matthew McConaughey winning particular acclaim for his starring role.
Since it started, True Detective has been tipped as an anthology series which will tell a different story with new characters and actors each season – meaning a clean slate and a fresh set of stars each series.
Hiring McConaughey was a coup even before his Best Actor Oscar win, but to cast Brad Pitt would an enormous win that would guarantee success for the show's second season.
Hollywood Life cites an insider who says: "Brad's name has come up many times, it's just a matter of what his other commitments are. It's the show everyone wants to be on, because the writing and the roles are just so exquisite and complex.
"Brad has tight relations with HBO – he teamed up with Ryan Murphy last year to produce the HBO movie The Normal Heart. I know everyone would be thrilled to have him on board."
It should be noted that Hollywood Life isn't the greatest source in the world, so the rumour should be taken with a healthy pinch of salt.
If it is true, it would prove to be the single biggest casting decision in US television history, and add fuel to the argument that the quality of television in the US is far exceeding that of Hollywood.
For Pitt it would be a return to a similar kind of role that made him a star in the first place. He played a detective in Se7en, one of his most famous films.
True Detective continues to air in the UK on Sky Atlantic. A second season is currently in the works and is expected to be filmed towards the end of the year.