If you are one of the few people yet to listen to the highly addictive Serial podcast or have not binge-watched TV shows such as True Detective or The Following, you are truly missing out because crime drama is the new small screen trend.
Granted, you may prefer watching a feel-good romcom over a murder mystery if your spirits are in need of a lift but there is nothing better than sinking your teeth into a gripping, edge-of-your-seat programme.
What is interesting, though, is that in the fast-developing internet age, there are now more ways than one to consume crime dramas.
In October 2014, the world witnessed an unexpected renaissance of that ol' thing called a podcast, when Serial premiered.
A production of This American Life and WBEZ, host and reporter Sarah Koenig leads the investigative narrative taking listeners through the real life case of a 15-year-old murder.
The subject in question is Adnan Syed, a high-school student who was convicted of strangling to death his ex-girlfriend Hae Min Lee in 1999 and subsequently handed a life sentence.
Syed has now spent 16 years in prison for the murder but it could possibly be for a crime he did not commit.
Koenig initially intended to probe whether there was misconduct by the Baltimore police and the legal system but even the journalist could not have predicted what a record-breaking phenomenon Serial would become.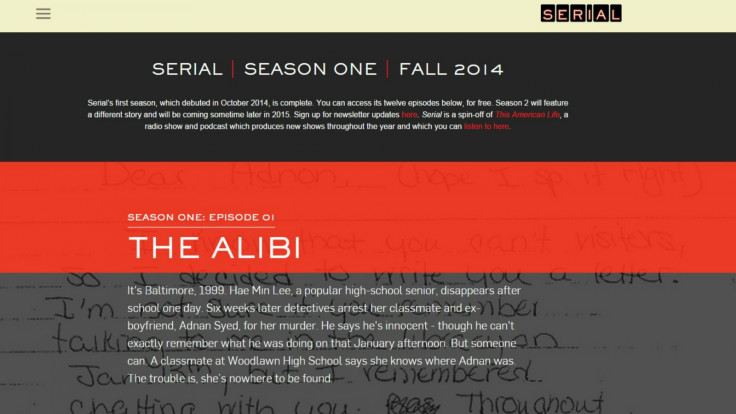 Armchair detectives began trying to solve the crime themselves by reading hundreds of documents, court transcripts and other evidence published online.
Some have even made visits to Leakin Park, the sprawling forest where Lee's body was buried in a shallow grave.
Interest in the murder case was so unpredictably high that online forum Reddit was forced to create a separate page, an official SubReddit, purely for listeners to discuss the podcast in-depth and share their theories on what really happened to the high-school student.
When Koenig announced she would not be releasing an episode for two weeks to spend Thanksgiving with her family in November 2014, devoted listeners who had become addicted and relied on weekly releases went into meltdown.
The "controversy" even hit headline news around the world, certifying just how popular the crime series had become with little or no promotion.
In fact, the real measure of Serial's success came when it was revealed that the 12-episode series was officially the most downloaded podcast in history after clocking up more than 68 million downloads.
Listen to episode one of Serial:
The power of Serial is such that a judge has granted Syed, now 34, the grounds to appeal his conviction, something which is virtually unheard of for prisoners sentenced to life.
Clearly, the global interest in his case has suddenly made Syed somewhat of a priority within the justice system.
Serial came to an end in December 2014 but its follow-up, Undisclosed (which is not by the Serial team), which digs up even more evidence on the case, is just as fascinating and is a regular fixture at number one on the iTunes chart.
Robert Durst and The Jinx
Perhaps the draw of crime documentaries is that viewers can often follow developments in real time.
This could not be more true for the bizarre and intricate case of Robert Durst, the multimillionaire New Yorker who was suspected to be behind the disappearance of his first wife, killing his best friend and murdering his elderly neighbour over a 20-year period.
Durst's story was detailed in HBO documentary The Jinx, produced by Andrew Jarecki, and it was astonishingly good.
Warning: Spoilers ahead
Not only was the film-maker able to secure exclusive interviews with the real estate heir but the film crew, unknowingly at the time, recorded Durst allegedly confessing to the crimes in a toilet, making for a thoroughly satisfying end to the docu-series for viewers.
What the film-makers also could not foresee was that around the time the finale episode aired in the US, the 72-year-old was arrested for the neighbour's murder.
The minute details of Durst's colourful life are so incredibly twisted that even the most gifted film-makers could not make this up.
Why is it the public are so gripped by crime dramas at the moment? Murder In The First actor AJ Buckley told IBTimes UK: "I think how it's being done. I think TV has changed in the sense that – I'm a binge-watcher.
"I love being able to sit and go on Netflix or my Apple TV, watch the first season of Homeland and [react like] 'Oh my God!'"
He continued: "What they actually found out with Murder In The First is – it almost got cancelled. But when the numbers came back, [producers realised] this is a binge-watcher.
"The numbers were huge. I think this is where TV is really changing is that... being a part of something that's 12 episodes, it's long enough to [enjoy]."
True Detective makes its long-awaited return
Real-life cases are not the only type of crime stories that are piquing the TV addict's interest.
The second season of HBO's masterpiece True Detective hits screens in the UK on 22 June and it has been what feels like a mightily long wait for the return of the crime drama.
Season one, which starred Matthew McConaughey and Woody Harrelson as the polar-opposite detectives, was an unexpected success for the network with an average of 10.9 million viewers tuning in each week.

The quality of the crime drama's first outing was immeasurable thanks to creator Nic Pizzolatto, who mastered the art of suspense, mystery and character development.
McConaughey's turn as the pessimistic, bitter and troubled detective was so impressive that he won two accolades including the Critics' Choice television award for best actor in a drama series.
Another TV actor who briefly swapped the feature-length projects for the small screen was Kevin Bacon, who, like McConaughey, starred as a detective haunted by his past in The Following.
After three seasons and increasingly poor storylines, the Fox series was cancelled in May 2015 but when it started in 2013, there was nothing quite like it on TV.
A psychopathic serial killer who persuaded other like-minded individuals to create a sprawling network carrying out his work? Sounds pretty grim but an average of eight million weekly viewers lapped it up.
Bates Motel, Hannibal, The Killing and Murder In The First are just some of the other dramas that have stolen the attention of millions of viewers.
Weekly figures prove viewers crave a developing story they can sink their teeth into and with all the suspense, gritty plots and complex characters a crime drama can offer, it is doubtful the trend will disappear any time soon.