The Donald Trump campaign has admitted the Republican nominee is on the back foot in the race to the White House against Hillary Clinton with less than two weeks to go for the polls. In a rare admission, Trump's top adviser acknowledged Clinton, a former secretary of state and a former first lady, has "tremendous advantages".
Trump campaign manager Kellyanne Conway, a long-time Republican pollster, was speaking to a series of American news channels as the rival sides look to sway undecided voters. On NBC's Meet the Press, Conway said: "We're behind. She [Clinton] has some advantages, like $66mn in ad buys just in the month of September, thereby doubling her ad buys from August. Now, most of those ads are negative against Donald Trump — classic politics of personal destruction, cesspool kind of ads.
"And she has tremendous advantages: She has a former president, who happens to be her husband, campaign for her. The current president and first lady, vice president, all much more popular than she can hope to be. And she's seen as the incumbent."
During the CNN's State of the Union chat show, the Republican campaign manager insisted: "Let me tell you something. You go out on the road with Donald Trump, this election doesn't feel over." Her comments follow Trump's admission on Friday (21 October) that he could lose in the elections — another rare occurrence in the lengthy battle.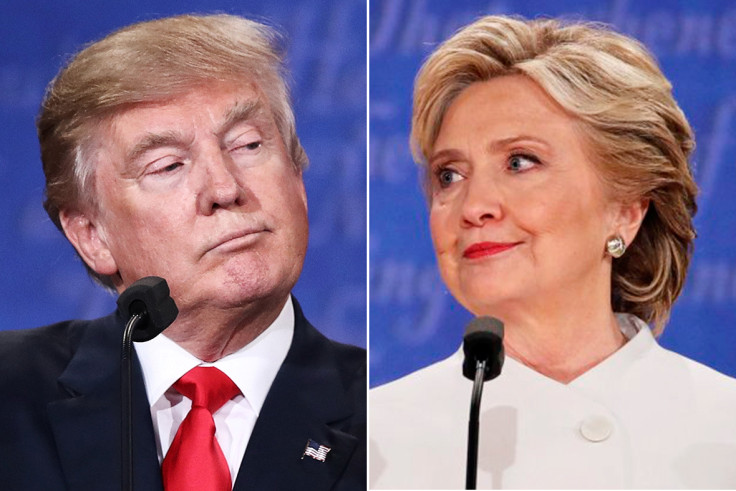 Despite polls showing a widening gap between the presidential hopefuls, Conway expressed hopes to turn things around before Americans go to the polls on 8 November to elect their 45th president. Trump has so far only alleged the elections are "rigged" without offering any credible evidence whenever there is a slight surge of the Democratic nominee in the polls.
Both the contenders are to turn their focus on the swing states, which would effectively seal the fate of the elections, in the remaining two weeks of their campaign. Addressing a rally in North Carolina, one of the seven swing states, Clinton said: "To say you won't respect the results of the election, that is a direct threat to our democracy. The peaceful transfer of power is one of the things that makes America America. And look, some people are sore losers, and we just got to keep going."