Trump nominates Rick Perry to head Department of Energy
Climate change denier who sits on board of controversial Dakota oil pipeline will form US energy policy.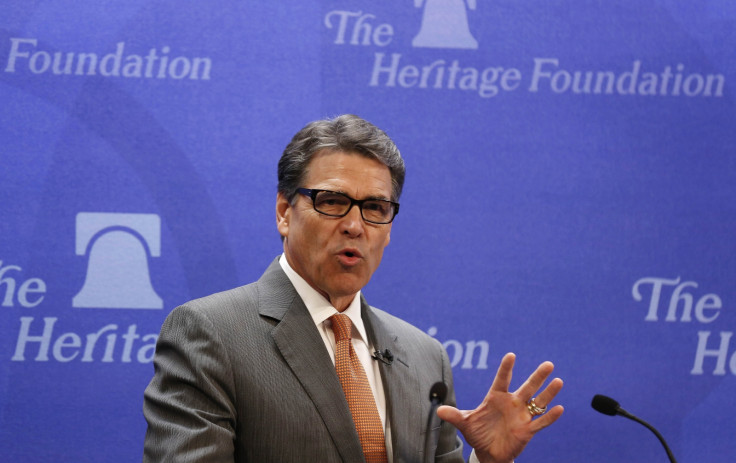 President-elect Donald Trump nominated former Texas Governor Rick Perry to head up the US Department of Energy on Wednesday (14 December).
"My administration is going to make sure we take advantage of our huge natural resource deposits to make America energy independent and create vast new wealth for our nation," Trump said in an official announcement, adding "Rick Perry is going to do an amazing job as the leader of that process."
Perry met with the president-elect at Trump Tower on Monday (12 December) to talk about the position.
A climate change denier, Perry sits on the board of Energy Transfer Partners, which is fighting First Nation groups and protesters to build the Dakota Access Pipeline. The project has lead to intense stand-offs between protesters, who have built a large encampment on the construction site, and police.
They are worried potential leaks from the pipeline will contaminate the water on their land. Just 241 kilometers from the camp of protesters, on Tuesday (13 December) it was reported that the Belle Fourche Pipeline spilled 176,000 gallons of oil into North Dakota's Ash Coulee Creek. The spill was first discovered in early December.
In 2015 Energy Transfer's top executives gave millions of dollars in support to Perry's 2015 campaign for the Republican nomination. His bid floundered in September 2015. During his 2012 bid for the Republican nomination, Perry's campaign hit the rocks when he couldn't recall whether he wanted to eliminate the Environmental Protection Agency.
The Secretary of Energy is traditionally tasked with creating energy policy, helping develop new energy technologies, such as solar and wind power, and maintaining the integrity of the environment. Perry, however, is a known climate change denier, a fact which would certainly conflict with the role of his department.
In 2010 Perry wrote a book called Fed Up! in which he disputed "so-called" climate science, saying "we have been experiencing a cooling trend." As Governor of Texas, Perry would not accept environmental reports which said climate change is caused by humans, and censored a report on sea-level rise in Gavelston Bay.
Trump shares these views, and in an interview on Fox News, on 11 December, questioned if climate change is real.
American government scientists disagree with both men. "Many lines of scientific evidence show the Earth's climate is changing," according to the US National Centers for Environmental Information, citing "overwhelmingly compelling" evidence the planet is "undergoing global warming." In America, 89% of Democrats and 62% of Republicans back climate science.
As Energy Secretary, Perry said he would promote, "an American energy policy that creates jobs and puts America first."
© Copyright IBTimes 2023. All rights reserved.