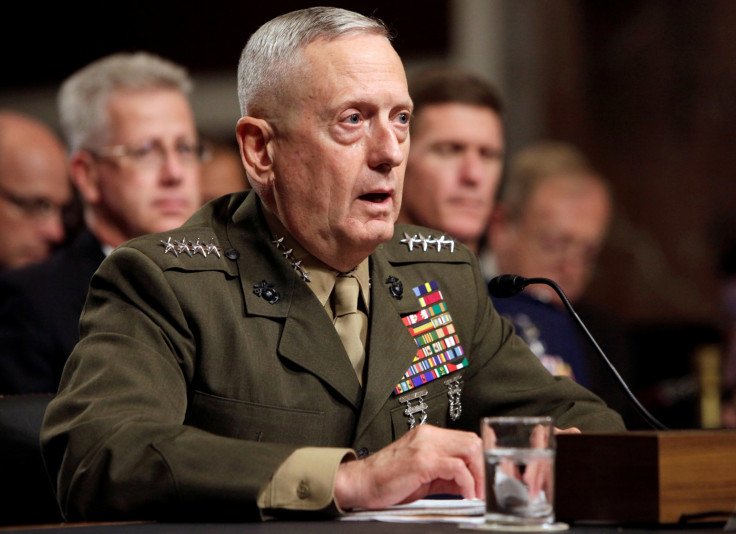 President-elect Donald Trump said that he will nominate retired General James Mattis to be his new administration's secretary of defence in Ohio during the first stop of his victory tour across America.
"We are going to appoint 'Mad Dog Mattis' as our secretary of defense," Trump told cheering supporters in Cincinnati, Ohio. "But we're not announcing until Monday, so don't tell anybody," Trump said, after giving a thumbs up.
Trump called Mattis "one of our great, great generals" adding "he's our best. They say he's the closest thing to [World War II] General George Patton that we have, and it's about time, it's about time."
Trump said he "gave up a little secret" after his transition team had said no more cabinet announcements would be made this week. "We have a great, great cabinet. And wait till you see what's coming next week," Trump said earlier in his speech.
President Barack Obama appointed Mattis to replace General David Petraeus as head of the United States Central Command – which oversees military operations in 20 countries – in August 11, 2010.
Mattis, who goes by the call sign "Chaos" and nicknames "Warrior Monk" and "Mad Dog Mattis" retired on March 22, 2013. The National Security Act of 1947 forbids anyone from becoming Secretary of Defense less than seven years after retiring from active duty as a commissioned officer in the US military. Trump's nomination of Mattis will need to be vetted through confirmation hearings in the Senate and Mattis will need a special waiver granted to sidestep the law.
Mattis said in 2005 during his time commanding Marines in Afghanistan and Iraq that "it's a hell of a lot of fun to shoot" Taliban fighters. "You go into Afghanistan, you got guys who slap women around for five years because they didn't wear a veil," Mattis said. "You know, guys like that ain't got no manhood left anyway."
The defense secretary nominee is also hawkish on Iran and called President Obama naive for signing a deal to stop the country from developing a nuclear weapon.
In April Mattis said Iran "remains the single most belligerent actor in the Middle East" during a speech at the Washington DC think tank the Center for Strategic and International Studies. He added that Tehran's behaviour shows "no signs of changing."
This week CIA director John Brennan and Russian diplomats urged Trump not to rip up the Iran deal as it is bringing stability to the Middle East.
Russian Deputy Foreign Minister Sergey Ryabkov called the deal "very balanced" and that it contains "considerable positive impetus for the situation in the Middle East and for international relations in general."