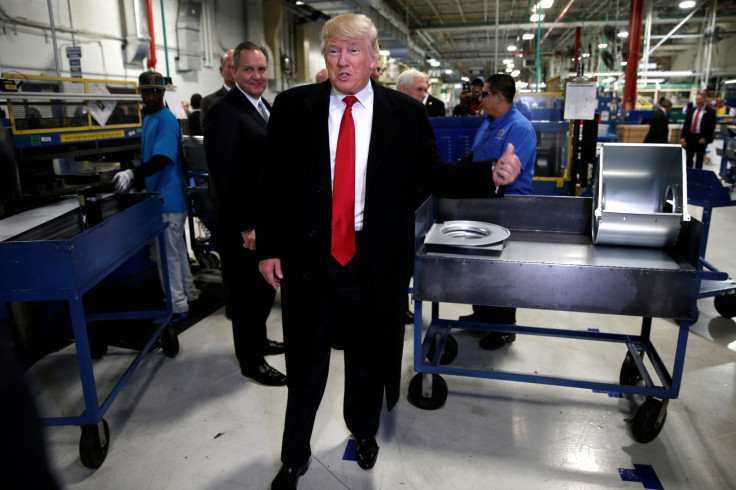 US President-elect Donald Trump has warned companies they will face "consequences" if they move their business outside the US.
He indicated that companies that move their operations overseas could be forced to pay a border levy when attempting to move products made abroad back into America.
The remarks came at a factory of air-conditioning company Carrier in Indianapolis, where Trump said he had brokered a deal to keep 1,100 jobs from being outsourced to Mexico.
The company will be offered $7m (£5.6m) in tax breaks over a 10-year period by the Indiana government in exchange for continuing to employ 800 union workers and 300 engineering and headquarters staff within the state.
Carrier owner United Technologies Corp still intends to move around 1,300 jobs from the Indiana factory to Mexico.
"I think it's very presidential. And if it's not presidential, that's OK... because I actually like doing it," Trump was quoted as saying by the Washington Post during his visit to the Carrier factory.
"But we're going to have a lot of phone calls made to companies when they say they're leaving this country, because they're not going to leave this country.
"Companies are not going to leave the United States any more without consequences."
The Carrier deal is a major coup for Trump, who had repeatedly pledged during his election campaign to keep American jobs from moving abroad.
However, Democratic Senator Bernie Sanders criticised the president-elect for not keeping his promise to save all of the jobs at Carrier.
He also took aim at the offer of tax breaks to the company, saying the move could endanger the jobs of American workers elsewhere.
"In essence, United Technologies took Trump hostage and won," Sanders wrote in the Washington Post.
"And that should send a shock wave of fear through all workers across the country.
"He has signalled to every corporation in America that they can threaten to offshore jobs in exchange for business-friendly tax benefits and incentives."