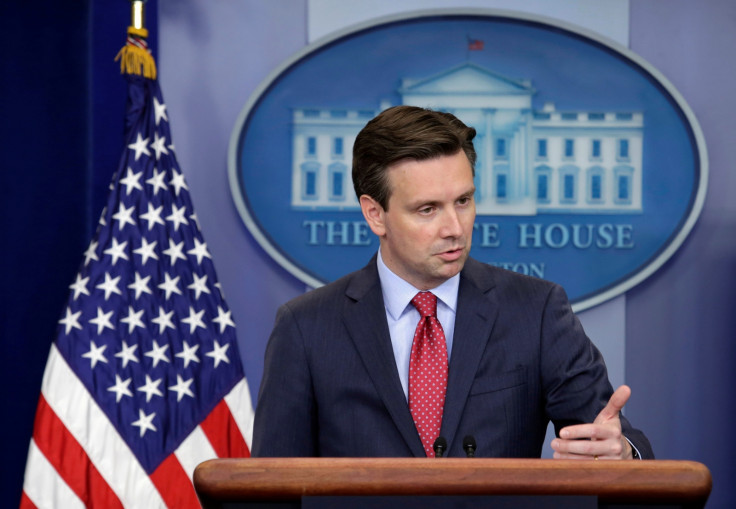 Donald Trump and his team are once again locking horns with the staff at the White House. The latest jab came from the president-elect, who criticised White House press secretary Josh Earnest, calling him "a foolish guy".
Speaking to a crowd of supporters in Pennsilvania on 15 December – during his Thank You Tour – Trump questioned Earnest's capabilities as press secretary. "This foolish guy, Josh Earnest, I don't know," he told the audience. "You know, having the right press secretary is so important because he's so bad the way he delivers a message. He can deliver a positive message and it sounds bad. He could say ladies and gentlemen, today we have totally defeated ISIS [Islamic State], and it wouldn't sound good."
Trump's comments follow remarks made by Earnest regarding Russia's alleged involvement in the hacking of Democratic and Republican committee accounts. Earlier the same day, the press secretary dropped all subtlety while fielding questions from members of the Press Corp.
"It is just a fact – you all have it on tape – that the Republican nominee for president was encouraging Russia to hack his opponent, because he believed that would help his campaign," he said. "It is not a controversial statement. I'm not trying to be argumentative. But I am trying to acknowledge a basic fact."
He directed reporters to a unanimous statement from the intelligence agencies, which concluded that "only Russia's senior-most officials could have authorised these activities".
"[Its] pretty obvious that they were referring to the senior-most government official in Russia".
Watch the complete video of Earnest's press briefing below:
Meanwhile, President Barack Obama also echoed similar views during an interview with The Daily Show host Trevor Noah. "None of this should be a big surprise. This was reported on before the election," he said. "The president-elect in some of his political events, specifically said to the Russians, 'Hack Hillary's emails so that we can finally find out what's going on and confirm our conspiracy theories'."