Ahead of their clash this afternoon(24 September) at London's Wembley Stadium, NFL players for the Jacksonville Jaguars and Baltimore Ravens took a knee during the US national anthem in protest of President Donald Trump's recent comments.
Trump had used his Sunday morning to continue his tirade against American Football players protesting the national anthem, calling on fans of the NFL to boycott games unless players are fired or suspended.
"If NFL fans refuse to go to games until players stop disrespecting our flag and country, you will see change take place fast. Fire or suspend!" the President of the United States wrote on Twitter.
"NFL attendance and ratings are WAY DOWN," he continued. "Boring games yes, but many stay away because they love our country. League should back U.S."
Numerous players knelt down during the anthem, afterJaguars owner Shahid Khan - who is a Muslim - stood arm-in-arm with his players in a moment of solidarity.
Trump's tweets follow a weekend of comments about NFL players such as Colin Kaepernick, who was part of the 'take a knee' protest against the country's treatment of its black communities.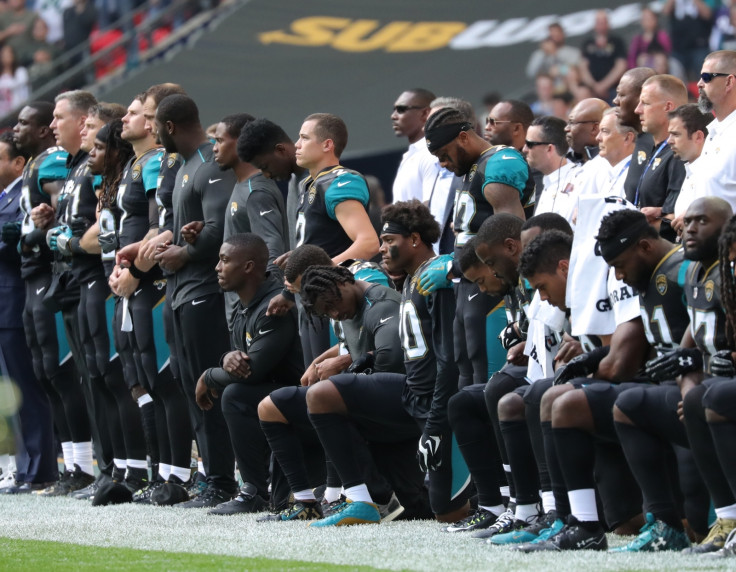 The President's comments come ahead of Sunday's round of NFL fixtures, with eyes turning to whether players will continue to respond to Trump in some way.
Yesterday on Twitter there were calls for players to "take a knee" in defiance of Trump.
In August 2016, Kaepernick said: "I am not going to stand up to show pride in a flag for a country that oppresses black people and people of color. To me, this is bigger than football and it would be selfish on my part to look the other way.
"There are bodies in the street and people getting paid leave and getting away with murder."
At a rally in Alabama, Trump said: "That's a total disrespect of our heritage. That's a total disrespect of everything that we stand for. Wouldn't you love to see one of these NFL owners, when somebody disrespects our flag, you'd say, 'Get that son of a b**** off the field right now. Out! He's fired'."
The next day, the 71-year-old set his sights on basketball star Stephen Curry, withdrawing the Golden State Warrior's two-time MVP's invitation to the traditional, commemorative visit to the White House extended to championship-winning teams.
"Going to the White House is considered a great honor for a championship team. Stephen Curry is hesitating, therefore invitation is withdrawn," Trump tweeted.
"If a player wants the privilege of making millions of dollars in the NFL,or other leagues, he or she should not be allowed to disrespect our great American flag (or country) and should stand for the national anthem. If not, YOU'RE FIRED. Find something else to do!"
The President's comments were met with widespread backlash from sports stars and teams from across the US.
In a statement the NFL said: "The NFL and our players are at our best when we help create a sense of unity in our country and our culture. There is no better example than the amazing response from our clubs and players to terrible natural disasters we've experienced over the last month.
"Divisive comments like these demonstrate and unfortunate lack of respect for the NFL, our great game and all of our players., and a failure to understand the overwhelming force for good our clubs and players represent in our communities."
NBA legend LeBron James called Trump a "bum" on Twitter, adding: "Going to White House was a great honor until you showed up!".