The former director of National Intelligence, James Clapper, has refuted claims by President Donald Trump that he was wiretapped last year on the orders of former president Barack Obama. FBI Director James Comey has asked the Justice Department to publicly set the record straight as well.
Clapper said that the FBI did not obtain a court order through the Foreign Intelligence Surveillance Act (Fisa) to monitor Trump's phones.
"For the part of the national security apparatus that I oversaw as DNI, there was no such wiretap activity mounted against the president-elect at the time, or as a candidate, or against his campaign," Clapper said on NBC's Meet the Press on Sunday (5 March). "There is no Fisa court order, not to my knowledge, of anything at Trump Tower."
He said that if any wiretaps had occurred, he would "certainly hope" that he would be aware of it. "I can't speak for other authorised entities in the government or a state or local entity."
According to the New York Times, Comey asked the Justice Department to publicly deny Trump's accusation because it falsely suggests that the FBI broke the law, but the department has not released any statement.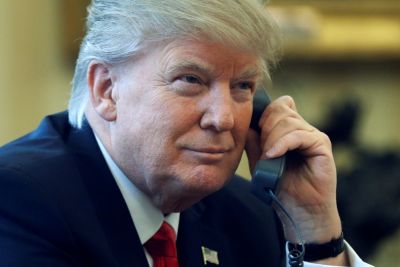 No evidence of collusion
Meet the Press' Chuck Todd also asked Clapper if he had any evidence that the Trump campaign had colluded with the Russian government as the Kremlin interfered with the election. "Not to my knowledge," he replied. "We did not include anything in our report that had any [reflection] of collusion between the members of the Trump campaign and the Russians. We had no evidence of such collusion."
Clapper said he still believed that Moscow had interfered in the November election to help Trump.
The former intelligence chief's remarks followed Trump's accusation, made without producing any evidence, that Obama personally ordered wiretap surveillance of Trump Tower before the presidential election.
Trump made the allegations early on Saturday morning in a series of tweets and branded the alleged acts "McCarthyism". On Sunday, the White House called on Congress to investigate whether Obama had abused his presidential powers.
"Neither the White House nor the president will comment further until such oversight is conducted," White House press secretary Sean Spicer said. Spicer also did not provide any evidence to back up Trump's claim.
Lawmakers on both sides have demanded more information from the White House on Trump's allegations. Senator Marco Rubio of Florida, a one-time primary opponent of Trump, said: "The White House will have to answer as to exactly what he was referring to," the BBC reported.
Simply false
House minority leader Nancy Pelosi called Trump "deflector-in-chief" for making the claims as the Russia links row rumbles on.
Obama's spokesman Kevin Lewis adamantly denied the accusations. "Neither President Obama nor any White House official ever ordered surveillance on any US citizen. Any suggestion otherwise is simply false."