The White House has warned that it would take measures to thwart Beijing's efforts to "take over" the disputed islands in the South China Sea, while aiming to protect the US's "interests" there.
The comments from the new administration of President Donald Trump come amid the Chinese state media's warning that such action would require Washington to "wage war".
Speaking at a press briefing on Monday (23 January), White House spokesman Sean Spicer said: "It's a question of if those islands are in fact in international waters and not part of China proper, then yeah, we're going to make sure that we defend international territories from being taken over by one country."
Spicer's comments signal a sharp aberration from how the US has been dealing with the territorial dispute and China's unilateral claims all these years. It also comes less than a fortnight after Trump's nominee for the secretary of state, Rex Tillerson likened Beijing's artificial island building campaign in the contested waters to "Russia's taking of Crimea".
When asked if Trump subscribes to Tillerson's comments about blocking China access to the islands in the mineral-rich trade route, Spicer said: "The US is going to make sure that we protect our interests there."
Tillerson made his remarks at his Senate confirmation hearing on 11 January. It sparked distress in China, with its state media slamming the Republican. It even prompted experts from the communist country to warn that the US has no business in the disputed waterway, where it is not a claimant. China has already built military-length air strips and installed weapons systems by creating man-made islands in the sea.
Spicer, however, refused to elaborate how the White House is planning to stop Beijing from accessing the South China Sea. He only said: "I think, as we develop further, we'll have more information on it."
Although the US Navy is said to be having extensive capabilities to block Chinese ships, submarines and planes from accessing the sea, such moves against Beijing's growing naval fleets would risk dangerous escalation, Reuters reported military experts as saying.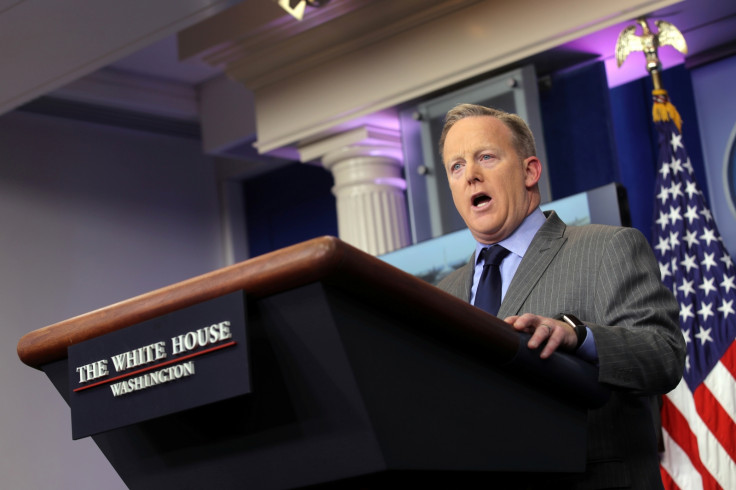 Mira Rapp-Hooper, a US-based South China Sea expert at the Centre for a New American Security called the threat by the White House as "incredible".
Bonnie Glaser from the Center for Strategic and International Studies think tank said Spicer's comments were "worrisome", while another expert Dean Cheng opined that the Republican's comments showed the South China Sea was an important issue for the Trump administration.