Trump's Taiwan telephone call could help Hong Kong democracy movement take on Beijing
Activist Joshua Wong told IBTimes UK about the need for the West's involvement.
Donald Trump's controversial phone call with the president of Taiwan may have boosted Hong Kong's democracy movement because it showed a leader can stand up to China, prominent activist Joshua Wong has said.
Beijing was angered by the breaking of diplomatic protocol in Trump taking the call from the Taiwanese leader Tsai Ing-Wen before his inauguration.
The US leader further stirred the pot by saying Beijing's One Country policy is "negotiable", a stance that could galvanise democracy movements in both Taiwan and Hong Kong.
Secretary-general of the pro-democracy political party Demosisto, Wong spearheaded protests in Hong Kong in 2014 in the "Umbrella Revolution" that agitated against electoral reforms, which would give Beijing a tighter grip on who leads Hong Kong.
Wong told IBTimes UK: "Even if I personally disagree with a lot of the policies of Trump, I think it is necessary to support the democracy movement of Hong Kong and Taiwan. I hope it will be a good start."
"Today Hong Kong, tomorrow Taiwan, is the general awareness or the consensus for Hong Kongers and Taiwaners during the umbrella movement."
Wong said that 20 years on from Britain's 1997 handover of Hong Kong back to China was an opportune time for the UK to push Beijing to honour the terms of the 1984 Sino-British joint declaration, which guaranteed areas like media freedom, a high degree of autonomy and an independent judiciary until 2047.
"While Beijing claimed that there would be prosperity under one country, two systems, the fact is that it exists in name only," he said.
Uncertainty surrounds how the relationship between Beijing and Washington will develop under a Trump administration, especially after the verbal salvoes fired by both sides.
China quickly countered by saying that its one country policy was "not negotiable", but Sino-US ties could become even trickier to navigate with Trump's executive order to pull the plug on the Trans Pacific Partnership, (TPP) a trade deal with China at its centre.
Hong Kong will have an election for a leader, known as the chief executive, on 26 March – but the general public do not get to vote. Instead, the candidate will be chosen by a 1,200-member committee loyal to Beijing. As founder of the now disbanded student group Scholarism, Wong drafted a plan for universal suffrage in 2014.
Wong and his party are pinning hope on the Hong Kong Human Rights and Democracy Act, introduced by senators including the US presidential candidate Marco Rubio, which will be heard by the US Congress later in 2017. It would be the first legislation of US policy towards Hong Kong for a quarter of a century and would reiterate support for Hong Kong's autonomy.
He also wants the UK to play a role as its former protector, to not put trade before freedom.
"I hope there will be a debate or hearing in the parliament and the UK government could be actively concerned about the human rights conditions in Hong Kong. I hope there will be a review of the "one country, two systems" on the 20<sup>th anniversary of the handover," he said.
Although only 20, Wong was listed by Fortune magazine as one of the world's 50 greatest leaders in 2015. He has been at the sharp end of attention from Beijing for his activities and has been blacklisted from mainland China, Singapore, Thailand and Malaysia.
He was arrested at Bangkok airport in 2015 and was questioned for 12 hours without access to a lawyer.
Arrested booksellers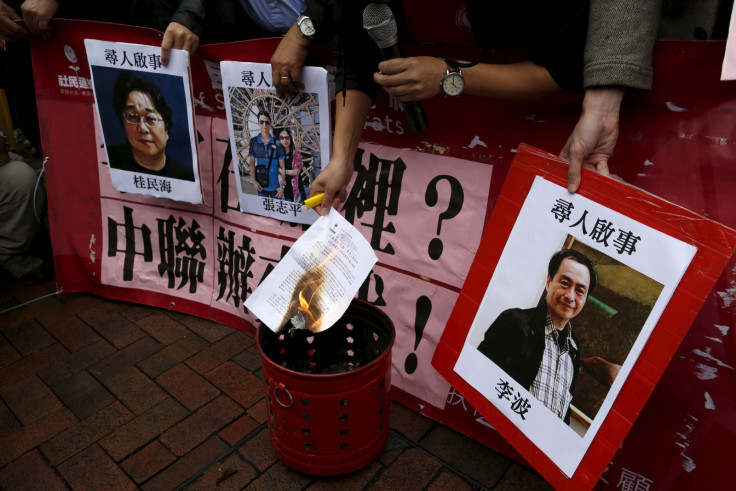 He feared facing the same fate as the arrested bookseller Gui Minhai who, although holding only Swedish citizenship, was among five booksellers who went missing in October 2015. He mysteriously disappeared from his holiday home in Thailand and was taken to mainland China.
Gui was the owner of the publisher Mighty Current, which produced political sensitive books about leaders in China. He emerged on Chinese state television in a tearful confession apparently admitting that he had turned himself in over a fatal drink-driving offence from 2003, which was viewed with scepticism.
His daughter, Angela Gui, told a London audience that there have been no charges, no consular access and no indication of how long he will be held for.
"What I think is significant about my father is that they not only demonstrate China's disregard for international and even domestic law, they also signify there is some sort of ethnically informed notion of Chinese citizenship, which takes privilege over internationally-recognised formal citizenship.
"This can only be read as some kind of imperial sentiment which is worrying, as long as one is ethnically Chinese one is at risk of being arrested, detained, or kidnapped," she told the audience at an event held in a parliamentary committee room, organised by the Henry Jackson Society think tank.
© Copyright IBTimes 2023. All rights reserved.