Born only nine months before Hong Kong left British rule, prominent activist Joshua Wong has spent most of his young life trying to realise the aspirations of that heady handover of 1 July 1997.
At primary school, his teachers would tell him how Hong Kong now was part of a country with two systems. He heard how it would still retain a high degree of autonomy and that the values of freedom of expression, freedom of speech and universal suffrage could be replicated under Beijing's stewardship.
But he felt that the gap between that rhetoric and reality became too stark when the Hong Kong government said it would introduce a "moral and national education" programme in schools. It would entail students being taught to show their loyalty to Beijing.
He and his peers saw it as a "brain washing" programme and it was the catalyst for Wong to set up the group Scholarism and campaign against Beijing's interference in the territory's education system.
It led to protests in which more than 100,000 people took to the streets. The "moral and national education" programme was dropped but the long arm of Beijing was still felt.
China's top legislative committee reneged on a pledge for direct elections and ruled that Hong Kong's leader, known as the chief executive, would be drawn from candidates effectively pre-screened by Beijing.
Between September and December 2014, students staged a number of street protests, dubbed the Umbrella Revolution with thousands of people blocking roadways in the centre of the city.
Persuading the authorities that the general public should choose their chief executive and not a 1,200 pro-Beijing elite would be a tough task but the movement captured the headlines internationally.
In 2014, he was named in Time magazine's most influential teenagers and the following year, was recognised by Fortune as one of the world's 50 greatest leaders. He is also the subject of a Netflix documentary which in January 2017, premiered at the Sundance film festival, titled Joshua: Teenager versus Superpower.
But his activities have come at a cost. Due to address a Thai university, he was detained at Bangkok airport in November 2014 on what he says was an order from the Chinese government. As well as Thailand, he says he is blacklisted from mainland China, Singapore and Malaysia.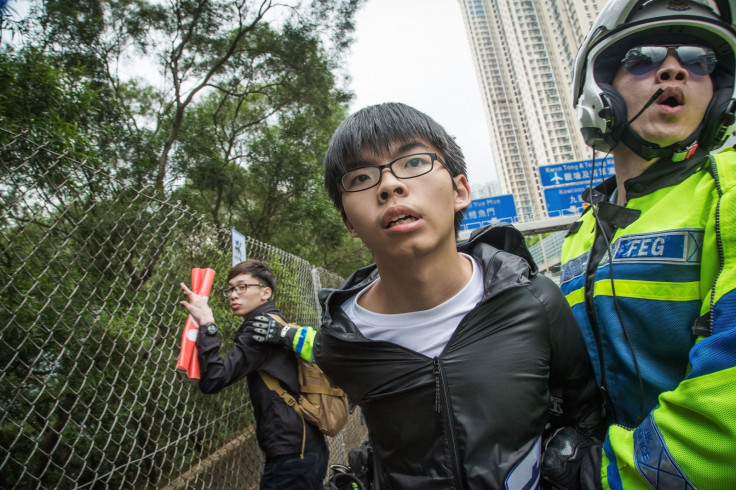 He has now established the political party Demosisto although he is too young to run for office. However, his party colleague, Nathan Law, who is 23 was among six young lawmakers elected to Hong Kong's legislative council.
While politically precocious, he still has an eye on the time when he is a lot older, and hopes he will still be around when the Sino-British joint declaration, signed in 1984 guaranteeing freedoms and autonomy, which expires in 2047.
However there are pro-Beijing groups in Hong Kong, like Silent Majority and Caring Hong Kong Power that believe pro-democracy groups endanger the city.
Facing demands for greater autonomy in regions like Tibet and Xinjiang. Beijing says it wants to maintain unity and in a white paper in 2014 says Hong Kong's autonomy "is not an inherent power, but one that comes solely from the authorization by the central leadership".
But addressing an audience at the UK parliament's committee rooms on 8 February, Wong articulated the hopes of many of Hong Kong's young generation.
"While Beijing claimed that there would be prosperity under one country, two systems, the fact is that it exists in name only. From the young generation's perspective, 'one country, two systems', has turned into 'one country 1.8 systems' and then 'one country 1.5 systems' in recent years.
"We have waited for more than 20 years. What I hope for, is to urge the international community to keep their eyes on Hong Kong.
"Sometime we feel down-hearted, and depressed. We have found a lot of limitation and restriction but we will continue the fight until the day we get back democracy," he said.