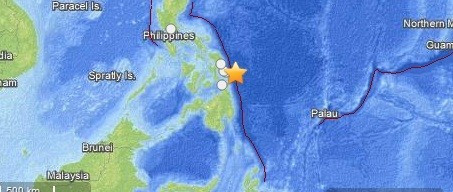 The 7.6 magnitude earthquake which struck off the coast of the Philippines has killed at least one person and left several towns without power - but the threat to surrounding countries has been downgraded.
A 54-year old woman has been confirmed dead, and her grandson injured, after the quake caused a house to collapse in southern Cagayan de Oro city, on the Philippine island of Mindanao.
Reuters reported that several roads and bridges in the Philippines have been destroyed, while residents on the east coast have moved to higher ground.
Benito Ramos, a retired general who heads the country's disaster response agency, said in a national broadcast that residents should be on the alert for aftershocks.
"Don't sleep, especially those in the eastern seaboard ... because there might be aftershocks," he said.
Power was knocked out in several other towns and cities across the central and southern Philippines, however it has subsequently been restored.
Tsunami alert lifted
Despite the turbulence in the Philippines, the tsunami alert issued across several Pacific countries including Indonesia, Taiwan and Japan following the earthquake has now been lifted, the Pacific Tsunami Warning Center (PTWC) said.
The PTWC said some parts of the southern and eastern Philippines did witness a tsunami, but the waves only measured 16cm (6in).
In April, Indonesia issued a tsunami warning after an earthquake with a preliminary magnitude of 8.7 hit the seabed off the westernmost province of Aceh.
At least 230,000 people in 13 Indian Ocean countries were killed in a quake and tsunami off Indonesia in 2004.