Commuters braved London's wintry streets this morning as Tube stations around the capital remained closed during a 24-hour strike by RMT union members.
Overground train stations closed due to crowding, queues for buses snaked along pavements and traffic came to a standstill as the Monday (9 January) morning stampede of office workers poured into the city centre with barely any Underground service to rely on.
Fortunately, temperatures were milder than last week but a light drizzle did nothing to cheer the spirits of people checking their phones for the latest travel advice.
Passengers – cold, wet and late for work – took to twitter to document the chaotic scenes and vent their frustrations at the inability of rail unions and bosses to reach an agreement.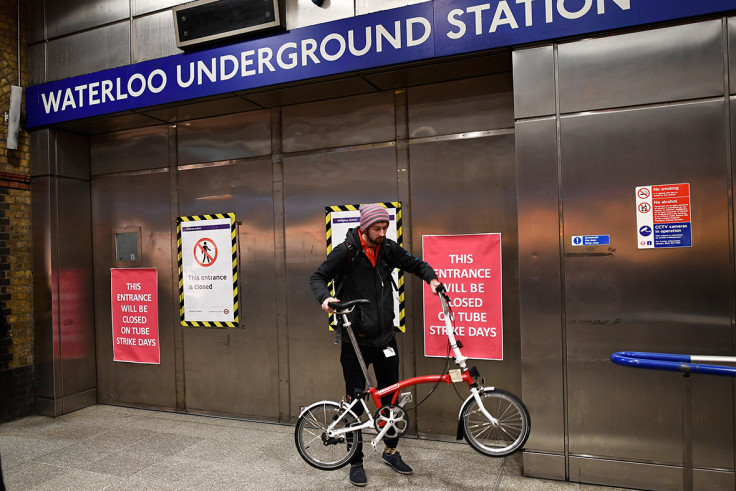 But the reaction was mostly buoyed up with a healthy dose of gallows humour.
Queues at Waterloo bus station stretched down the street and round the IMAX roundabout.
One twitter user described the situation as a "nightmare" while another commented on how impressed he was with the orderliness of the queue; "so civilised!", he said.
Equally long queues could be seen at Mile End bus stop but again the queues remained disciplined. Natalie Baker tweeted: "Angry, cold and late, but us Brits refuse to throw away queue etiquette!"
Buses were not only incredibly busy but also severely delayed as more private cars and taxis took to the road in the absence of a Tube service.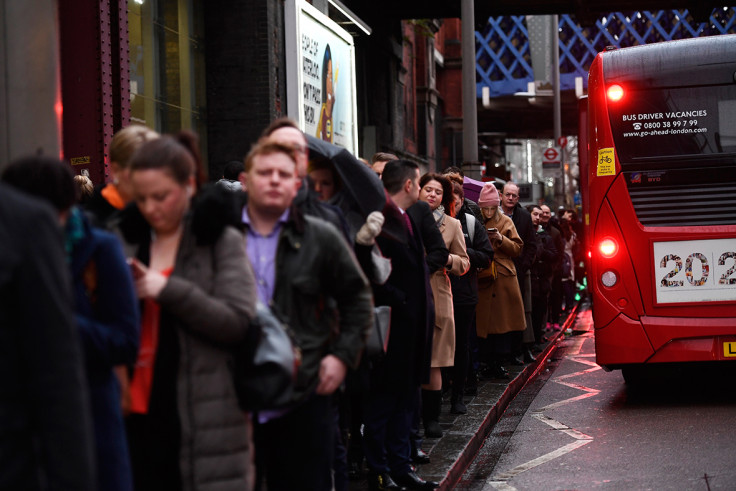 Despite additional buses being provided they were still stretched to breaking point.
A tweet from Kennington Cross showed bumper to bumper traffic in all directions. Twitter user David Tinney wrote: "A solid mass. Good luck!"
For those brave enough, cycling probably represented the fastest mode of transport. The usual peloton of lycra-clad enthusiasts were joined by added numbers of suited businessman on Santander hire cycles. The two bike racks at Marylebone station were empty at 7.30am. Santander staff worked tirelessly to replenish bike stocks at their many hubs around London.
Many, if not most, took to good old-fashioned walking. Pavements were packed with commuters, some of them wearing trainers. IBTimes UK has produced a London Underground walking map to help commuters know how far distances are as they make their way home.
Clapham Junction, the UK's busiest train station, was forced to close for 50 minutes because the pressure of Tube users trying to find alternative routes into work became unmanageable. London Overground stations were also forced to regulate the flow of people on and off platforms as the orange Overground line provided the only reasonable way for some to get from west London into the City and Canary Wharf.
Follow IBTimes UK for the latest news on the January 2017 London Underground Tube strikes.