Tulisa Contostavlos' rapper friend Mike GLC has accused the singer of abandoning him after they became embroiled in a drugs scandal.
The 36-year-old, whose real name is Michael Coombs, said that the now infamous 'Sun Sting' ruined his life, and the former N-Dubz singer only looked out for herself.
Speaking to Heat Magazine, Mike, who pleaded guilty to supplying cocaine, said he felt "betrayed" by his former confidant.
Although the pair's case was sensationally thrown out by a judge, he insisted that the 25-year-old singer showed her true colours when things got tough.
"I feel betrayed by Tulisa," he told Heat Magazine. "She was like my little sister, and she's left me with nothing. I don't hate her – I'm just disappointed at how she's treated me."
Rapper was the 'victim'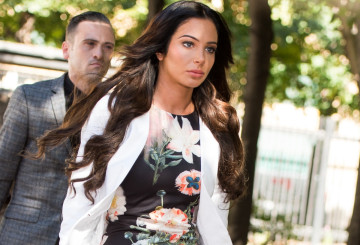 Although Contostavlos was accused of acting as a fixer and setting up a £800 deal, Mike says he was the real victim of the scandal.
"I lost my business, my home, my family," he said. "I was loyal to Tulisa. She's done nothing to help me when I needed it the most."
He added: "After the arrest, she promised to help me out, but as the weeks passed, she contacted me less. Since then, we've barely spoken."
In a documentary which aired on BBC Three after the case collapsed, Tulisa: The Price of Fame, Contostavlos opened up about her traumatic ordeal. But Mike claims she hid the fact she was filming during the trial.
He recalled a day in court, when he asked her to come outside with him and says he realised then she was trying to keep her distance.
Secret filming
"I didn't think much of it at the time, but now I suppose it was because she didn't want the filmmakers seeing us together," he said.
The north Londoner, who insists he is not a drug dealer, says that the former N-Dubz singer put on a show for the cameras to win back public support.
"I don't know that person in the documentary. I've never met her in my life.
"Her family aren't the closest thing in her world, and then suddenly she's calling her mum. The 'poor me' act – she wasn't going to prison, so what about poor me?"
Contostavlos, a former X Factor judge, has not responded to his scathing attack.