Tunisia Bardo Museum massacre: British tourist 'unaccounted for' as MSC Cruises liner leaves port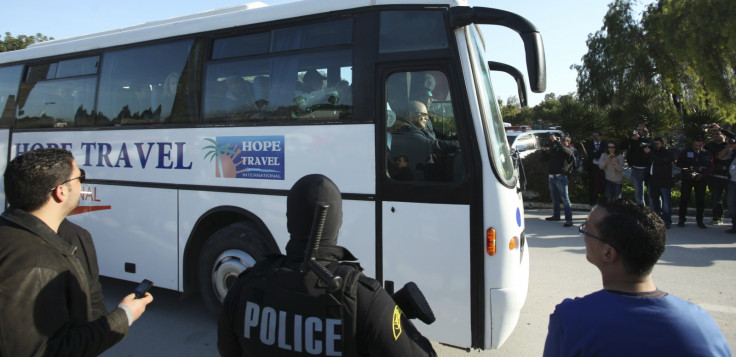 A British tourist is among a number of cruise ships passengers who are still unaccounted for after a deadly shooting in Tunis.
At least 19 people were killed and more than 40 wounded as two gunmen in military fatigues stormed the Bardo Museum in the Tunisian capital.
Among the victims were passengers on a shore excursion from two liners that had docked in the port city as part of an off-season Mediterranean cruise.
MSC Cruises said that a number of guests from the Splendida who joined an organised trip to the museum were caught in the attack.
Nine were confirmed killed, 12 injured and six, including a British national, are unaccounted-for, not having returned aboard as the ship pulled out to the Mediterranean at sunrise, the company said.
"However, these numbers are still subject to modification whilst official identification is on-going," MSC added.
The MSC Splendida had arrived in Tunis on Wednesday with 3,714 guests and 1,267 crew aboard.
No further details about the missing British tourist were immediately available. The Foreign & Commonwealth Office (FCO) confirmed only that two Britons were "caught up" in the attack.
"We can confirm that two British nationals were caught up in the shootings in Tunis on Wednesday and that we are providing consular assistance," a FCO spokesperson said.
"We are working with the Tunisian authorities as well as with contacts in the tourist industry to establish if any further British nationals have been affected."
A number of passengers from another cruise liner, Costa Crociere's Costa Fascinosa, were also among the victims. Costa Crociere said that 13 passengers had not returned on board when the ship left Tunis overnight.
According to company figures, there were 3,161 passengers on the ship Costa Fascinosa.
Both cruise lines said they have teams in Tunis to coordinate with local authorities and provide assistance to the victims.
Meanwhile Tunisia's prime minister said one of the two gunmen was known to intelligence services, although no formal links to a particular terrorist group have been established.
The attackers, identified as Yassine Laabidi and Hatem Khachnaoui, where both shot dead as special sorces were deployed to storm the museum.
Prime Minister Habib Essid said Laabidi had been flagged to intelligence, although not for "anything special."
The other gunman, Khachnaoui, reportedly suddenly left the country three months ago and then called his parents from Iraq.
Tunisian armed forces are fighting Islamist groups which emerged after the country's 2011 revolution, with thousands of Tunisians believed to have left the country to fight for Islamist groups in Syria and Iraq.
© Copyright IBTimes 2023. All rights reserved.