In the wake of the deadly Islamist attack on a Tunisian beach resort, the head of a local communication agency launched a provocative ad campaign urging tourists not to desert the country when it needs them the most.
Days after a jihadi gunman killed 38 people in Sousse, leading many holidaymakers to flee for home or cancel future trips, Selim Ben Hadj Yahia posted on Facebook photos of earlier terror attacks in London, Paris and New York, asking whether these had triggered a similar reaction from tourists.
"Would you stop visiting New York?" read the caption of a picture showing the moment a plane crashed into the World Trade Center on 9/11. "Support Tunisia, land of peace," it added.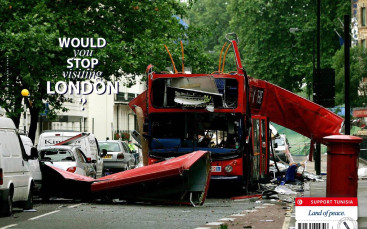 The same message accompanied images of the 7/7 attacks in London and the Charlie Hebdo shootings in Paris in January 2015.
Ben Hadj said the idea came as a spontaneous reaction to the attack and the following national debate on its consequences for the country, and particularly tourism.
"We are all victims of terrorism," he told IBTimes UK. "But in Tunisia the reaction we are getting is people saying: 'We are not coming anymore.' There is the impression that a war is ongoing in the country but that is not the case."
His post was shared thousands of times, receiving much praise, including a congratulatory call from the press office of the Tunisian president.
It also drew some criticism, mostly claiming the attack in Sousse was different from the others as tourists were specifically targeted.
"I didn't want to compare the attacks but the reaction to them," he explained, adding that, whether people were on holiday or going to work, in all cases Westerners had been targeted by "fanatic barbarians".
"I didn't want to shock without cause but to draw the attention of our friends in the US, Europe and all over the world to tell them that Tunisia really needs their support at all levels, even only sparing a thought or a word [for us]," he said. "There is no need to dramatize a situation that is already very difficult."
Tourism contributes to more than 7% of Tunisia's GDP, with about 15% of the workforce directly or indirectly linked to sector.
The massacre in Sousse, which saw extremist Seifeddine Rezgui gunning down 38 beachgoers, mostly Britons, and an earlier attack at a museum in the capital, Tunis, are expected to have a detrimental impact on the country's economy.
Mohammed Ali Toumi, the head of the Tunisian Federation of Travel Agencies, told Bloomberg: "Hotels may close their doors and hotel owners may go bankrupt. About 700 travel agencies that employ 14,000 people will be affected by this terrorist attack."
Ben Hadj said that beside the financial loss, the attack also threatened to enhance a negative feeling of international isolation amid the local population.
"If our British, Italian and French friends stop coming it is going to be a catastrophe," he said, adding that although the local Ministry of Tourism had not contacted him yet, he would be more than happy for it to make official use of his campaign.