Tunisians are commemorating the first year since the assassination of secular opposition leader Chokri Belaid after authorities claimed the alleged killer had been shot dead this week.
The charismatic critic of the Islamist party Ennahda was fatally shot as he left his house in the capital Tunis.
A member of a leftist alliance of parties known as the Popular Front, 48-year-old Belaid often accused Ennahda of tolerating Tunisia's ultraconservatives, or Salafists, who had defaced mausoleums and art exhibits while hiding behind the mask of liberalism and democratic values.
The assassination sparked anti-government protests and a political crisis from which Tunisia has started to emerge only recently, with the approval of a consensus constitution last month.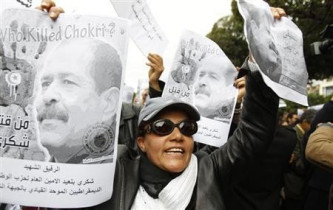 The authorities blamed the killing on members of Salafist group Ansar al-Sharia.
Interior minister Loft Ben Jeddou announced that Belaid's alleged assassin, Kamel Gadhgadhi, was killed with other suspects during a 20-hour siege of a house in the northern Raoued district of Tunis.
"[It is] the best present that we could give Tunisians" on the first anniversary of Belaid's murder, said Ben Jeddou.
However, the family of the dead politician accused Ennahda for the killing.
"He can keep this present; killing a man is not a present," Belaid's brother, Abdelmajid, told AFP.
"We didn't want Gadhgadhi to be killed and we are certainly not celebrating his death... We wanted him to be fairly tried," he said.
"We want to know the whole truth. Gadhgadhi was not alone. There are other parties implicated and we hope they will be captured so that the truth is revealed."