Turkish police have detained about 30 alleged Islamic State (Isis) militants in a dawn raid, a day after a major operation in the southeastern province of Diyarbakir.
Police launched simultaneous operations against IS cells in the central Anatolian city of Konya, according to Dogan news agency. The sweep was still ongoing.
On Monday, seven jihadists and two police officers were killed in a gun battle in the Kurdish-controlled city of Diyarbakir. The battle erupted when police forces were trying to open the door of one of the IS houses and booby traps exploded, killing two officers and wounding five. A huge cache of weapons, ammunitions and documents were seized during the raids.
Turkish authorities have launched a series of anti-IS operations after double suicide bombings that killed more than 100 people at a peace rally in Ankara earlier in October, the worst attack of its kind in Turkey's modern history.
The AKP government came under fire from the opposition after one of the suicide bombers was identified as the brother of Seyh Abdurrahman Alagoz who attacked a cultural centre in the border town of Suruc on 20 July killing 32 young socialists and aid volunteers in a suicide blast.
The ruling party and president Recep Tayyip Erdogan were accused of turning a blind eye to both Suruc and Ankara in a bid to raise tensions in the country and secure a majority in upcoming parliamentary elections.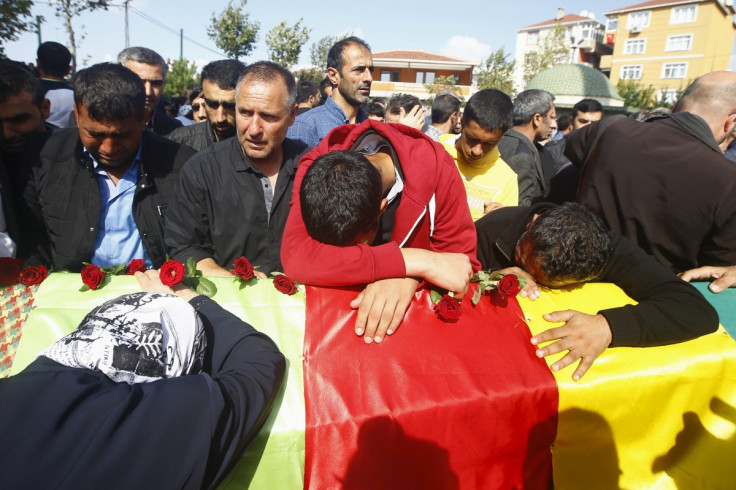 As Ezge Basaran, journalist at Radikal newspaper, told IBTimes UK the Ankara bomber, Yunus Emre Alagoz, was already on a list of potential suicide bombers. Radikal had been publishing reports about the Alagoz bombers since 2013 and in the aftermath of the Suruc bombing had warned that the surviving brother could launch another attack shortly.
The two brothers, along with Orhan Gonder, the alleged bomber of a pro-Kurdish HDP party demonstration in Diyarbakir, were recruited by a radical Islamist group called Dokumacilar, with links to IS. They also hung out in a teahouse called Islam Cayevi (Islam Teahouse), owned by Yunus, and located in Adiyaman, which is known as an IS stronghold in Turkey.
After the crackdown on IS cells, Turkey's opposition has accused the AKP-led government of acting too little, too late. "The Isis trouble has engulfed the country," Süleyman Korkmaz, a lawmaker from the Nationalist Movement Party (MHP), told reporters in Kayseri. "Is there a secret bargain [with Isis] behind the Suruç and Ankara attacks that massacred people?"
The pro-Kurdish Peoples' Democratic Party (HDP) said on Monday, "Isis infiltrated Turkey thanks to the support it received from the government."
Last week, President Tayyip Erdogan said Syrian intelligence and Kurdish militants, not only Islamic State, were behind the attack on a rally of pro-Kurdish activists and civic groups.