Turkey: PKK kill third policeman in Suruc suicide bombing revenge ambush in Diyarbakir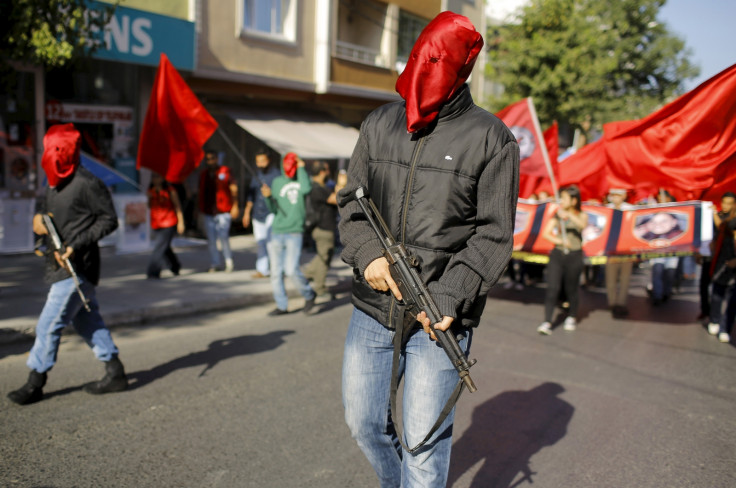 A Turkish policeman has been shot dead and another wounded in the Kurdish-majority city of Diyarbakir, just one day after the Kurdistan Workers' Party (PKK) claimed the murder of two officers in revenge for the Suruc suicide bombing.
The two were patrolling the Sehitilik district when they were notified about a car accident. When they arrived at the scene, they were ambushed by the gunmen.
The latest attack is likely to intensify fears that the decades-long conflict between the Turkish state and the Kurdish separatist party may be about to erupt again, after months of significant progress on a peace process.
The suicide bombing in the south-eastern town of Suruc killed 32 young aid workers and socialists who were preparing a summer aid mission for the war-torn Syrian town of Kobane, just over the border.
The alleged bomber had been identified as a 20-year-old Turkish student called Seyh Abdurrahman Alagoz, from Adiyaman, in south-eastern Turkey.
Prime Minister Ahmet Davutoglu said "Daesh", the Arabic acronym for the Islamic State (Isis), was responsible for the attack and the young assailant had links with the jihadist group.
But the PKK, which is blacklisted by Turkey and the EU, accused the Turkish moderate Islamist AK Party government of tolerating or even supporting IS.
"A punitive action was carried out... in revenge for the massacre in Suruc," the People's Defence Forces (HPG), the PKK's armed wing, said in a statement on its website, accusing the two policemen in Ceylanpinar of cooperating with IS.
The attackers were described as "Apoist team of self-sacrifice", using the nickname for the jailed leader of the PKK, Abdullah "Apo" Ocalan.
Turkey has been accused of failing to control its 911km (566mi) border with Syria.
© Copyright IBTimes 2023. All rights reserved.