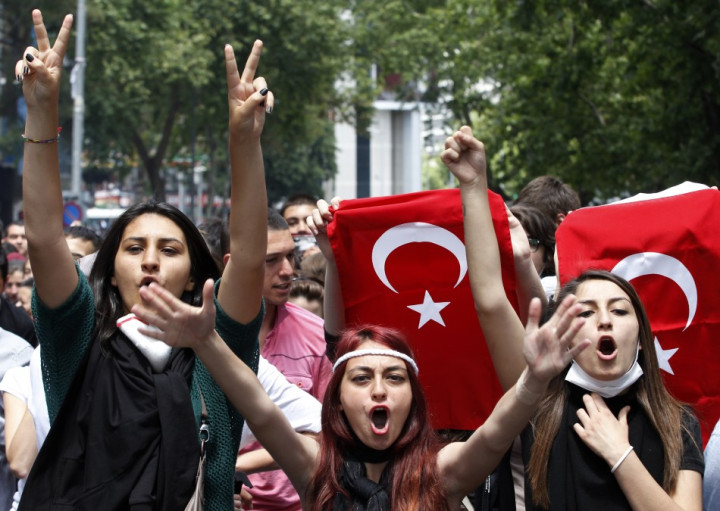 A powerful Turkish union has started a two-day strike to support growing anti-government protests after a second death was reported.
Turkey's left-wing Public Workers Union Confederation (Kesk), which represents 240,000 members, was due to start a "warning strike" against what it termed a government strategy of state terror against demonstrators. The unrest has spiralled across the country over five days.
Twenty-two-year-old Abdullah Comert, a member of the youth wing of the opposition CHP (Republican People's Party), was "seriously wounded" by gunfire from an unnamed person and died later in hospital.
His death followed that of 20-year-old socialist Mehmet Ayvalitas, who was hit by a car on Sunday which ignored warnings to stop and rammed into a crowd of protesters in Istanbul's Mayis district.
Kesk represents 11 unions and the strike is likely to affect schools, universities and government offices.
It said: "The state terror implemented against entirely peaceful protests is continuing in a way that threatens civilians' safety."
The US has urged an inquiry into the political violence and appealed for restraint on all sides.
US Secretary of State John Kerry said: "We are concerned by reports of excessive use of force by police. We obviously hope that there will be a full investigation and full restraint by the police."
Turkey's financial markets seem to have recovered some losses since the protests began, according to Reuters. The main Istanbul share price was up 3.87% at 79,965 points in early Tuesday morning and the lira strengthened to 1.8804 against the dollar from 1.8892 late on Monday. It had fallen to its weakest point since January 2012.
Turkey's PM, Recep Tayyip Erdogan, remained defiant as protests spread across Turkey's four biggest cities, including Izmir, Ankara and Istanbul.
He warned against taking political disputes on to the streets and boasted that he could mobilise a mass of government supporters to clamp down on demonstrations.
"There is 50% and we can barely keep them at home. But we have called on them to calm down," he said, referring to his Justice and Development Party (AKP), which took just over half of the votes in the last elections of 2011.
The unrest began as a small, peaceful demonstration to save popular Gezi Park, a rare green public spot in central Taksim Square, from demolition and replacement with an Ottoman-style shopping mall, but later mushroomed into anti-government protest against the perceived authoritarianism and Islamist agenda of Erdogan.
He remains Turkey's most popular politician, but tighter restrictions on alcohol sales and warnings against public displays of affections have sparked increased domestic criticism.
READ:
Turkish Activist Nagehan Uskan: Today We Are All Someone New [BLOG]