Turkish police have raided a newspaper and TV studio in Istanbul that is critical toward the ruling government just a few days ahead of crucial general elections. The police used tear gas and a water cannon, according to local media reports.
Live television footage showed police dispersing the crowd that gathered in front of Koza Ipek Holding media group, which houses Bugun TV and the Bugun and Millet newspapers. Pictures also showed authorities taking away handcuffed journalists from the building.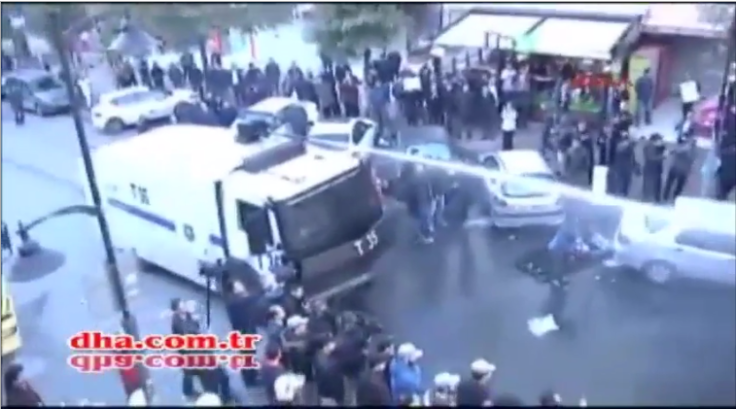 Tarik Toros, editor at Koza Ipek, was still broadcasting from the control room with live interviews over a smartphone as police stormed the group's headquarters. "Dear viewers, do not be surprised if you see police in our studio in upcoming minutes," a Bugun TV anchor said live. Hundreds of people, mostly journalists affiliated with the media company, had gathered outside the headquarters to protest against the raid.
As Mahmut Tanal, an MP with the opposition Republican People's Party (CHP) failed to negotiate with police, officers broke into the building using tear gas to disperse the crowd. The takeover of Koza Ipek comes just days before Turkey is set to vote in general elections after the ruling AK party of president Recep Tayyip Erdogan failed to form a coalition government.
Erdogan, whose party lost its 13-year majority in June, called snap elections and intensified violence with the Kurds in an attempt to regain unilateral majority by appealing to nationalist sentiment.
On 26 October, an Ankara court ordered Koza Ipek Holding to be placed under the management of a trustee pending an investigation into its financial links to the Hizmet (Service) movement of Fethullah Gulen, an influential cleric who is in self-imposed exile in Pennsylvania, US.
Last year, Gulen and his movement were accused of orchestrating a wave of high-profile arrests that shook the moderate-Islamist government of the then-prime minister and current president Recep Tayyip Erdogan. Forty-seven businessmen and politicians, including the sons of three Cabinet ministers, were put in custody on corruption and bribery charges. The 70-year-old preacher, who is accused of "leading a terrorist organisation", denied any involvement.
Erdogan accused Gulen of orchestrating the scandal against his inner circle in an attempted "judicial coup" and of building a "parallel state" with extensive influence in the Turkish police and judiciary. Reports that Hizmet members infiltrated the secret services, law enforcement offices, and the AK party itself have circled in Turkish media for some time.