A blaze has ripped through a school dorm in Turkey killing 12 people, 11 of whom were teenage girls, local officials have confirmed.
The fire in the southern province of Adana is believed to have started due to an electrical fault, causing the wooden structure of the building to go up in flames.
Footage of the bright red blaze was circulated on social media as fire fighters tried desperately to extinguish the inferno.
A further 22 were injured as people trapped inside the burning building dived out of windows in a desperate attempt to save their lives.
"We lost 12 of our citizens in the fire. Eleven of them were schoolchildren and one was a tutor. Twenty-two citizens are injured," Adana governor Mahmut Demirtas confirmed on Turkish NTV television.
The identities of the girls are yet to be confirmed but are all are said to be 14 or under. None of the injured are reported to be in a serious condition. Officials said that the school is for girls from impoverished families in nearby villages.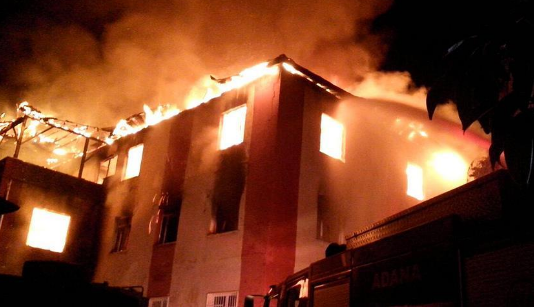 The fire started at 7.25pm (4.25pm GMT) on Tuesday (29 November). Its flames could be seen illuminating the entire area and rising tens of metres in the air as firefighters worked to extinguish them. Officials confirmed it took roughly three hours to bring the fire under control.
The fire comes almost a week on from a deadly car bomb which blasted in Adana on 24 November in the car park of Demirtas's office. Two people were killed and 33 others were injured in the attack. The Kurdistan Freedom Falcons (TAK), a terrorist organisation affiliated to the Kurdistan Workers' Party (PKK), claimed the attack, officials said.