Turkish PM Erdogan: Israel's Massacre of Palestinians 'Surpasses Hitler in Barbarism'
Turkish Prime Minister Recep Tayyip Erdogan claims Israel is carrying out worse crimes than those of Hitler and the Nazis.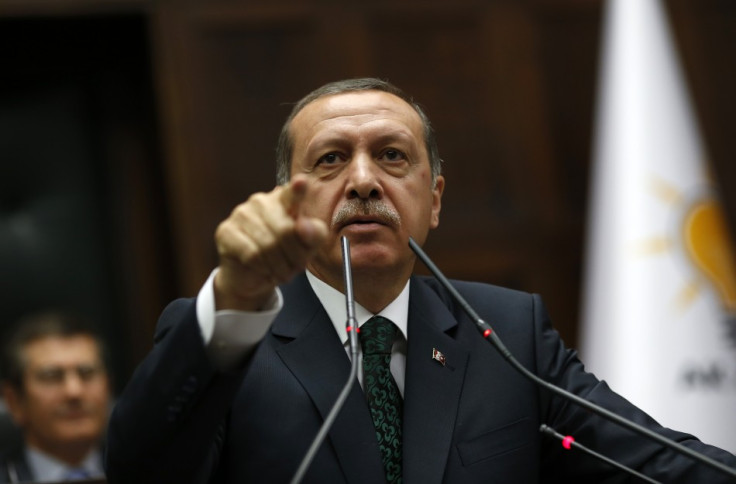 Turkish Prime Minister Recep Tayyip Erdogan has accused Israel of "surpassing Hitler in barbarism" because of its military airstrikes on Gaza.
He said Israel was massacring Palestinians in the Gaza Strip and carrying out worse crimes than those committed by Hitler and the Nazis.
Speaking to supporters at a political rally in the Black Sea city of Ordu on Saturday, he said: "[Israelis] have no conscience, no honour, no pride. Those who condemn Hitler day and night have surpassed Hitler in barbarism."
Erdogan stoked anti-Israeli sentiment further by accusing the US of defending Israel's "disproportionate" offensive against Palestinians, and criticising the Muslim world for not taking a stronger stance in defence of Palestine.
However, the Turkish leader warned supporters not to vent their anger against Turkey's Jewish population, which numbers around 17,000.
"I don't approve of any [bad] attitude towards our Jewish citizens in Turkey despite all this," Erdogan said. "Why? They are the citizens of this country."
Erdogan's comments came under fire from Israeli Prime Minister Benjamin Netanyahu, who branded them as anti-Semitic.
In a telephone conversation with US Secretary of State John Kerry, Netanyahu said Erdogan's comments desecrated the memory of the Holocaust.
Israel's Foreign Ministry in Jerusalem recalled the families of Israeli diplomats in Turkey and issued a travel warning against Israelis visiting the country, Haaretz reported.
Turkey has witnessed days of violent pro-Palestinian demonstrations, with police dispersing protesters at Israeli diplomatic missions with tear gas. Local media also reported a rise in pro-Hitler messages on Twitter.
Tensions between Israel and Turkey have deteriorated in recent years and reached crisis point when Israeli commandos stormed the Turkish ship Mavi Marmara, which was sailing as part of a flotilla attempting to breach Israel's naval blockade of Gaza in 2010. Ten people were killed.
Israel intensified its offensive against Gaza on Sunday, as the conflict's death toll climbed to more than 350. The Israeli military said in a statement on Sunday that it sent additional forces to Gaza, where at least 50,000 people had to flee their homes to escape ground, air and sea military assaults.
Gaza officials said at least 345 Palestinians have been killed. Five Israeli soldiers and two civilians are reported to have been killed. On Sunday, Naser Tattar, director of Gaza's Shifa Hospital, said at least 40 Palestinians were killed in an Israeli bombardment in the neighbourhood of Shejaiya.
© Copyright IBTimes 2023. All rights reserved.