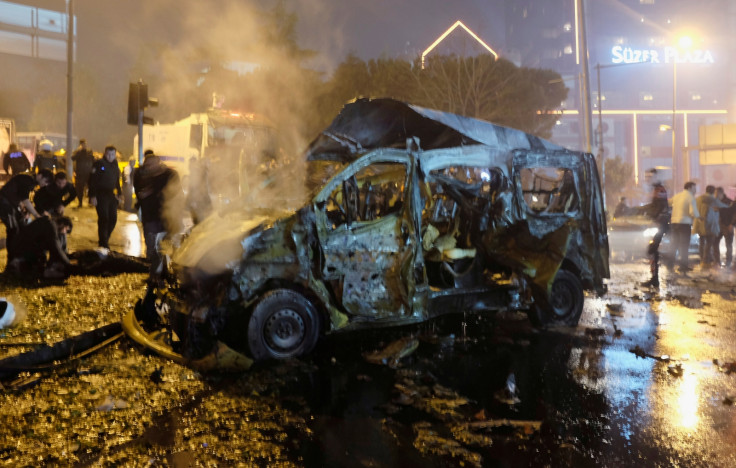 Turkish warplanes pounded several positions of Kurdish militants in northern Iraq following the twin blasts that rocked Istanbul killing 38 people. The aerial bombardment comes as Turkish authorities pledged "vengeance".
Turkish fighter jets struck the targets at about 9pm local time (6pm GMT) on Sunday, 11 December, after intelligence fed information about Kurdish militants' areas. All the warplanes returned to their bases safely following the attack.
"12 PKK terrorist targets were shot 24 times in the area, all of them being destroyed completely," the Turkish military said in a statement.
Two powerful explosions in quick succession shook central Istanbul on Saturday causing severe casualties. Subsequent to the bombings, the suicide squad of the Kurdistan Freedom Hawks (TAK), an offshoot of the PKK group, claimed responsibility confirming the initial suspicions of the Turkish government.
The TAK said there will be no peace in Turkey until the top PKK leader Abdullah Ocalan is released from prison. The group has carried out several attacks against the Turkish government in the past as well.
"Sooner or later we will have our vengeance. This blood will not be left on the ground, no matter what the price, what the cost," said Interior Minister Suleyman Soylu while attending the funeral of officers. The PKK has long been waging a bloody insurgency in Turkey.
"What we must focus on is this terror burden. Our people should have no doubt we will continue our battle against terror until the end," said Turkish President Recep Tayyip Erdogan after visiting injured victims in hospital.
"They should know that we won't leave them unpunished. They should know that they are going to pay a heavy price." More than 150 people were injured in the explosions.