Turks want terrorists behind failed coup dead, says President Erdogan
20,000 people have either been fired from jobs or detained for having links with the coup attempt.
Turkish President Recep Tayyip Erdogan has said that the people in his country want the "terrorists" behind the failed coup attempt "dead". His stinging remarks come as Ankara is mulling to reinstate the death penalty on the back of the failed military coup.
In an interview with CNN on Monday (18 July), Erdogan said that the act was a "clear crime of treason" and did not rule out capital punishment for those who engineered the coup,
"The people now have the idea, after so many terrorist incidents, that these terrorists should be killed, that's where they are, they don't see any other outcome to it," the Turkish leader said.
"Why should I keep them and feed them in prisons, for years to come? That's what the people say. They want a swift end to it, because people lost relatives, lost neighbours, lost children... they're suffering, so the people are very sensitive and we have to act very sensibly and sensitively," he added.
Turkey quickly descended into political chaos on Friday (15 July) when a large-scale attempt was made to overthrow the ruling government with the help of military and other security forces. However, the efforts were thwarted as the administration swiftly struck back at the attempted 'coup'.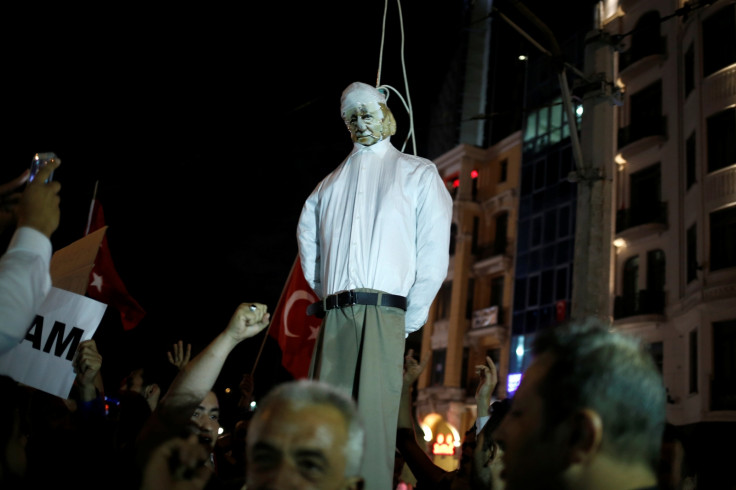 In the aftermath of the incident, the government has targeted as many as 20,000 people, claiming that most are part of state-run bodies like military, police and civil service. They have either been fired or being detained by security forces after being accused of being complicit in the attempt to overthrow the government.
The number of people who are currently in custody has reached 7,500 – including 6,000 soldiers and 755 judges. More than 8,000 police officers have been removed from their jobs, mainly from posts in Turkey's capital city, Ankara.
Admitting that the nation is undergoing a phase of "trauma", Turkey's Prime Minister, Binali Yildirim, also echoed Erdogan's promise that the perpetrators will be expected to pay the ultimate price.
"Whether in the army or in the air force, all necessary measures are being taken. We have no doubts here. We are of course experiencing a big trauma as a nation... That is normal," the Turkish premier told a cabinet gathering, according to the Hurriyet Daily.
"Those who have been involved in this should know that we will demand the price of every drop of blood spilled. There will be no comfort for us if we do not settle these accounts. But while doing this we'll keep within the boundaries of the rule of law," he said.
© Copyright IBTimes 2023. All rights reserved.