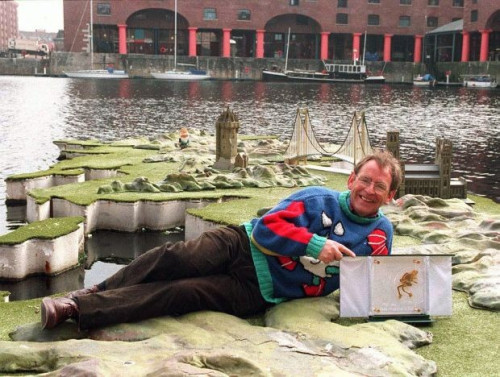 TV weatherman Fred Talbot has been charged with 10 sex offences, eight of which involve three children under the age of 16.
Talbot, 64, is accused of nine counts of indecent assault and one count of buggery against five victims.
He is accused of eight offences of indecent assault against three boys under 16 years of age, one count of indecent assault against a male aged 17 and one count of buggery against a 19-year-old male.
The offences are alleged to have taken place between 1969 and 1983.
Greater Manchester Police said six counts of indecent assault pertain to a single victim, who attended a school in Newcastle.
The other offences relate to three victims who attended Altrincham Grammar School for Boys at the time, and the buggery charge relates to an offence against a former pupil of the school.
He is due to appear before Manchester Magistrates Court on 11 February to face the charges.
Nazir Afzal, chief crown prosecutor for CPS North West, said: "We have carefully considered all the evidence gathered by Greater Manchester Police in relation to allegations from five complainants that Fred Talbot sexually assaulted them between the 1960s and 1980s.
"Having completed our review, we have concluded that there is sufficient evidence and it is in the public interest for Mr Talbot to be charged with 10 sexual offences relating to five complainants, three of whom were under 16 years of age at the time.
"This decision was taken in accordance with the Code for Crown Prosecutors and our guidance for prosecutors on sexual offences. May I remind all concerned that criminal proceedings against Mr Talbot have now commenced.
"He has a right to a fair trial and it is extremely important that there should be no reporting, commentary or sharing of information online which could prejudice these proceedings. For these reasons, it would be inappropriate for me to comment further at this time."
Talbot, who was best known for presenting the weather on a floating map of the UK on ITV's This Morning in the 90s, was first arrested by police in April 2012 over allegations he abused pupils at the Altrincham School, where he taught biology.
He was then rearrested in December on suspicion of further offences at Altrincham and one indecent assault offence alleged to have occurred in the North East of England.