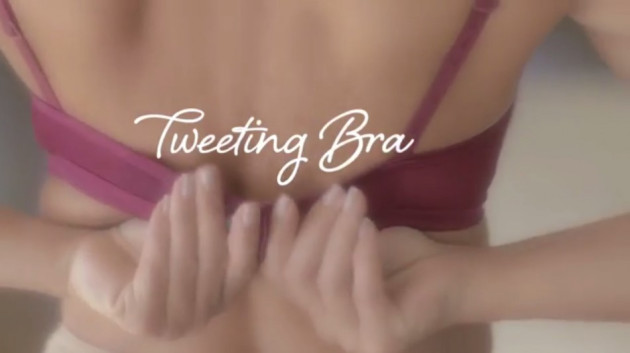 A fitness company has come up with a hi-tech "tweeting bra" that will send out tweets every time it is unclasped, as part of a breast cancer awareness campaign.
The bra, the brainchild of Nestle Fitness and its ad agency Ogilvy Athens, is designed to remind women to examine their breasts for cancer symptoms every month.
Hi-tech equipment is placed inside the hooks of the bra, which transmits a signal to a mobile phone, sending out a tweet.
"It's the first and only bra that tweets with a mission to remind you one thing you should never forget: your monthly breast self exam," said Nestle Fitness.
Nestle Fitness is an offshoot of Nestle, best known for its chocolate and dairy products, and is aimed at health-conscious consumers across the world.
The digital undergarment is not for sale, but only for the breast awareness campaign.
The campaign has been launched in Greece where local television personality Maria Bakodimous has been wearing the undergarment for two weeks. Bakodimous' Twitter account has been sending reminder messages to nearly 149,000 followers everytime she unhooks her bra.
As part of the awareness campaign, the Twitter account @tweetingBra has also been sending out messages in both Greek and English.
"Some don't understand me cause I speak Greek. Instead of learning Greek, learn something easier: how to have a self-exam!" read one tweet.