The current Twitter outage may have started an hour before most reports began, according to stats on the Down Right Now website.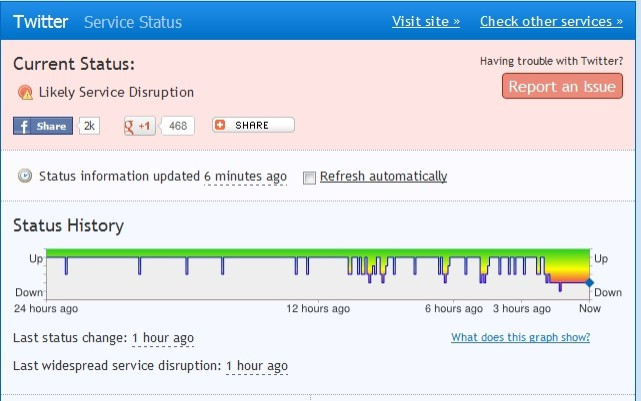 Down Right Now monitors outages of major sites in real time and a graph of the Twitter website's usage stats shows that the problem may have begun an hour before the first widespread reports.
The figures seem to show that an initial plunge in usage is brought back to normal status quite quickly, before the overall usage plummets once more.
The micro-blogging website was unavailable to users in America and Europe.
Twitter's usual front page was replaced with a plain white screen displaying the message: "Twitter is currently down for <%= reason %>. We expect to be back in <%= deadline %>."
A message on the official Twitter status page read: "Users may be experiencing issues accessing Twitter. Our engineers are currently working to resolve the issue."
Twitter's last major outage was a crash that lasted two hours on 21 June, 2012. That is believed to have been the longest the service has ever been offline and this outage will have been very close to that figure.
Twitter blamed the June 2012 outage on "a cascaded bug in one of our infrastructure components" and had stabilised the service two hours later.
A hacker with the UGNazi group claimed responsibility for a Denial-of-Service (DoS) attack on that occasion but a Twitter spokesman denied that the service had been forced offline.
This latest Twitter outage happened on the same day that a problem with Google Talk left users unable to log on to the instant messaging service. Google confirmed that its IM client crashed for "a majority of users" across the globe.